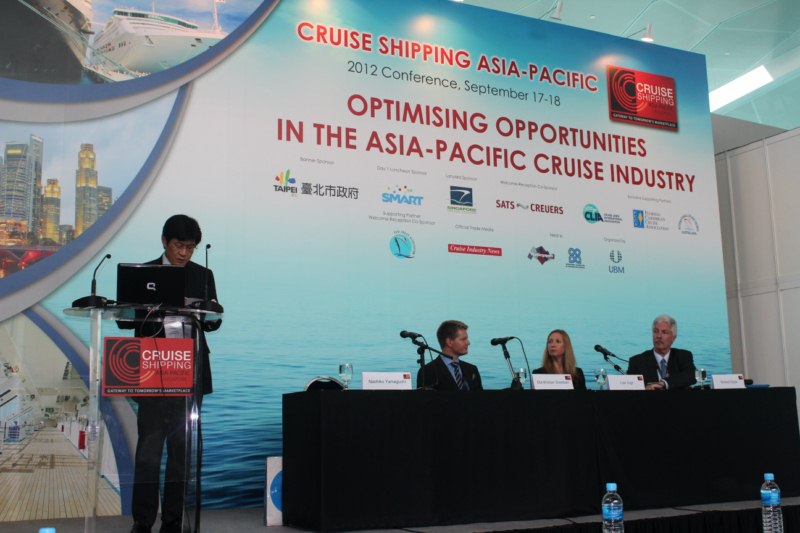 "We are not all-inclusive," said Naohiko Yamaguchi, director of Tokyo-based Mitsui OSK Passenger Line.
However, tickets cost an average of $500 a night, with voyages mainly marketed to affluent Japanese consumers for cruises on its 1990-built Nippon Maru. The line charges for alcohol, specialty dining, the spa, laundry, internet, shopping and shore excursions.
Speaking during the Localizing Onboard Experience and Revenue panel at the 2012 Cruise Shipping Asia-Pacific conference and trade show in Singapore, Yamaguchi said that Mitsui makes 90 percent of its revenue off ticket prices, with an additional seven percent made onboard and three percent on optional shore excursions.
Japanese flag restrictions mean no onboard casino, said Yamaguchi, instead, the ship has what he called an "imitation casino" where passengers can win points for prizes in the gift shop.
Onboard shopping potential is strong, Yamaguchi continued, but "not like the Chinese."
Additionally, around 50 to 70 percent of Japanese passengers buy optional tours. "They take it as an important part of the cruise vacation," Yamaguchi explained.
As far as market potential, cruising is still a very small niche in overseas travel for Japanese tourists, Yamaguchi noted.
Japanese-flagged ships are different, according to the Mitsui director, who said that the flag means reliability in safety, with experience in 157 ports in the Japanese archipelago.
"Food cost per day per passenger is four times higher than typical international cruise ships," he said, underlining the product's high quality offering. "This is partially due to the high value of yen, but I want to emphasize that out chef is very selective in choosing the food. The menu varies every day."