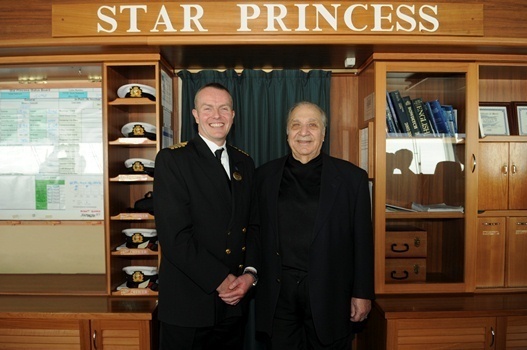 Princess Cruises passengers aboard Star Princess last week were treated to a special presentation from the soldier who sent the message ending World War II in Europe.
When he was an Army Signal Corps sergeant in 1945, 20-year-old Gregory Melikian was tasked with sending the a telegraph message from General Dwight Eisenhower announcing the end of the war in Europe. The message, originating from a schoolhouse in Reims, France – the makeshift Allied headquarters – was sent shortly after the surrender of German forces. For serving in France at this time, he is also being considered for the French Legion of Honour.
Hundreds of passengers joined Cruise Director Martyn Moss in the Princess Theater for a question and answer session, and many lined up afterward just to shake the hand that sent that historic telegraph.
Today Melikian is a philanthropist, business owner, and an honorary commander of the Luke Air Force Base in Arizona. He sailed with a large group of family members and friends, and was invited to meet Captain Edward Perrin on the ship's bridge.