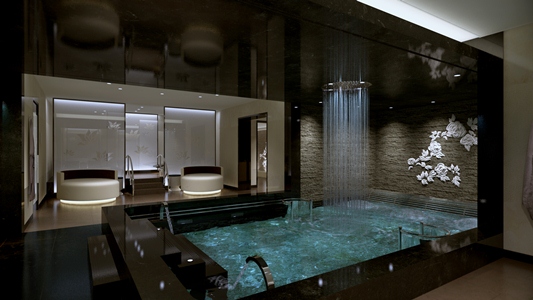 In anticipation of National Relaxation Day next week, Princess Cruises today unveiled details of the expanded Lotus Spa that will offer the ultimate in rejuvenation for passengers cruising aboard the new Royal Princess, including a new location just off the atrium – a convenient stop for passengers enjoying a treatment before or after the many activities and dining options nearby.
When the ship debuts next June, cruisers will find a spa with a welcoming feel and contemporary, sophisticated décor, as well as more treatment rooms than any other Princess spa. New features will include private Couples Villas and The Enclave – a thermal suite that is triple the size of any existing Lotus Spa. Here passengers will be able to totally decompress with new relaxing options such as the Hammam (a Turkish-style steam room), the Caldarium (an herbal steam room), the Laconium (a dry heat sauna) and the line's first-ever hydro-therapy pool.
The Lotus Spa features are detailed in the company's latest video previewing Royal Princess, viewable at princess.com/royalprincessactivities.
"The opportunity for total relaxation is one of the key reasons to cruise with Princess," said Jan Swartz, Princess Cruises executive vice president. "So naturally, our signature spa is a popular place for passengers to escape from any stress and tension. With the new Lotus Spa aboard Royal Princess, we're excited to give our passengers the ultimate place to unwind."
Among the features of the Lotus Spa on Royal Princess will be:
The Enclave – The central feature of Princess' largest-ever thermal suite is the dramatic hydro-therapy pool to help rejuvenate the mind and body with a cascading rain shower and therapeutic air jets in various locations around the pool. Passengers can also choose to relax on heated stone beds or soothing water beds, plus enjoy steam and sauna options using different temperatures, humidity zones, and aroma infusions to offer a sense of rejuvenation. New features include:
• The Hammam – A Turkish-style steam bath to enhance well-being, the Hammam's warm marble slab is a soothing addition to a massage and can be used with clay, mud or salt treatments.
• The Caldarium – A feature taken from Roman times, this warm, light steam ceramic chamber offers an infusion of herbal aromas. Walls, floors and seats are heated for a deep penetrating warmth that promotes relaxation.
• The Laconium – This warm, dry chamber gradually warms the body to help with purification and detoxification.
• Sensory Showers – Passengers can choose from four different experiences: Tropical Rain, Cold Mist, Rain Shower or Siberian Shower, which also include dynamic mood lighting and aromas to enrich the experience.
Scrub & Shine Bar – As a prelude to any spa treatment, or as an addition to use in The Enclave, passengers can get recommendations from a "mixologist" for the perfect scrubs to complement their treatments. The bar offers a selection of salt and sugar scrubs to choose from, which can be "spiced up" by adding a mixture of herbs.
Treatment Rooms – The Lotus Spa on Royal Princess features more treatment rooms than ever before (a total of 18), including two new luxurious Couples Villas. These private retreats offer a quiet place for time together with side-by-side massage tables, a soothing whirlpool bath, customized music for relaxation and a sitting area with ocean views.
Relaxation Lounge – A private space to relax before a treatment, this comfortable lounge features a calming atmosphere and scenic ocean views. Passengers can enjoy a cup of herbal tea or fruit-infused water as they unwind.
Lotus Spa Salon – The spa will also feature a full service salon featuring a new "social" nail bar with side-by-side stations for an interactive manicure experience. Included in the salon are private teeth whitening stations with individual TVs, pedicure stations and a barber shop for men.