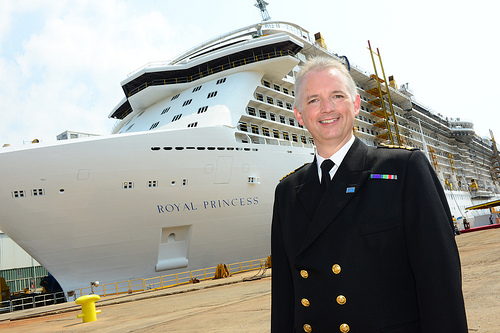 Princess President and CEO Alan Buckelew and Royal Princess Captain Tony Draper attended the float out, as did long-time Princess master Captain Nick Nash and his daughter, Victoria, who served as the ship's "madrina" (or "godmother").
Following the Italian shipyard's tradition, the float out of a ship is celebrated when the madrina cuts the cord that begins the flow of water into the ship's dock. Victoria Nash was chosen to serve as madrina because she has a special connection to the first Royal Princess – as a baby, she was christened aboard the ship.
"The original Royal Princess left our fleet some time ago, but we wanted to bring the spirit of that much-loved ship, also a prototype design, to the new Royal Princess," said Buckelew during the ceremony. "And who better to do that than Victoria, who has grown up into a beautiful young lady who will now have a special connection with both vessels."
The ship is moving to the outfitting dock where final construction and interior outfitting will take place until the ship debuts in June 2013.