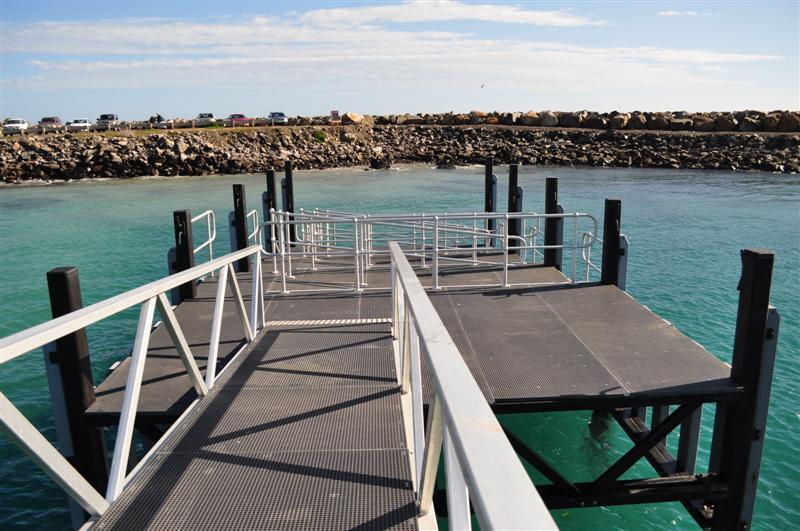 A new landing structure at Penneshaw will support a surge in cruise ship visits to Kangaroo Island. Minister for Tourism Gail Gago today visited Kangaroo Island to launch the infrastructure, which was funded by the South Australian Tourism Commission (SATC).
"This exciting project means international cruise ships can now anchor off Penneshaw, allowing thousands of people to explore the best that Kangaroo Island has to offer," Minister Gago said. "The cruise industry is presently worth more than $7 million each year to South Australia and it is important we have world-class infrastructure to support each ship arrival."
In 2010 the SATC identified the need for new infrastructure in order to encourage larger cruise ships to visit Kangaroo Island.
Commission staff consulted major cruise lines to determine the most desirable design and location for the multi-vessel structure, which was completed on July 2.
"The SATC has confirmed nine cruise ship visits to Kangaroo Island between 2012 and 2014, and expects further bookings to be made for the 2013/14 season," Minister Gago said.
"Quite simply, these visits would not be happening without the investment the SATC has made in this new infrastructure.
"The first ship to use the new tender landing structure will be in November this year when Holland America Line's Volendam arrives with up to 2400 passengers and crew.
"Three other ships – the SS Voyager, Athena and Amsterdam – will bring up to 4270 passengers and crew to Penneshaw during the 2012/13 cruise season."
A 2011 Access Economics report found that every one-day cruise ship visit to Kangaroo Island delivered $100,000 in passenger expenditure to the local economy.
This study was based on visits by the 600-passenger Athena, though ships to anchor off Penneshaw in coming seasons are considerably larger.
"In the year ending 2011, total visitation to Kangaroo Island had increased by almost 30 percent on 2001 figures," Minister Gago said.
"Tourism is vital to this region and it's wonderful to see the burgeoning cruise ship market being catered for with this new infrastructure."