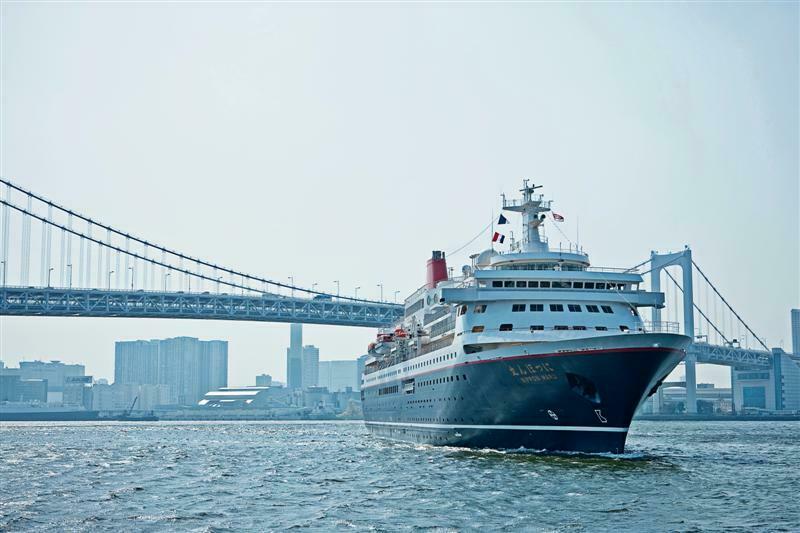 "What makes us different from the American and European luxury lines are the unique facilities onboard the Nippon Maru like the chashitsu (tatami room for tea ceremonies), toilet seats fitted with an automatic bidet, heaters in all the rooms and a grand bath, which are common in Japanese hotels," said Naohiko Yamaguchi, director, Mitsui OSK Passenger Line.
The 22,474-ton, 1990-built Nippon Maru is sold as a luxury ship, he said, and underwent a major refurbishment in 2010.
The ship will mainly sail domestic cruises for the rest of 2012, but a New Years voyage is offered, calling in Guam and Saipan.
The product is designed for wealthy Japanese seniors, according to Yamaguchi.
The Nippon Maru was built at Mitsubishi Heavy Industries, as was the slightly larger Fuji Maru, which the company uses for charters.
"We are always looking at expanding," said Yamaguchi. "But, there are no concrete plans for a newbuilding. We need to concentrate on being successful with what we have."
The company is backed by Mitsui OSK Lines, a major Japanese cargo company.
Yamaguchi said that his differentiation strategy concentrated on three points.
The first being the variety of domestic destinations the ship visits.
"We take advantage of our ship's small size and national flag by visiting small Japanese islands as well as the Japanese archipelago," he elaborated.
"Second on the list is the quality of the food. We never offer the same dish twice, even on long voyages. In our understanding, our food cost per person per day is at least five times higher as that of the major cruise companies and double that of the upscale lines. This is because we stick to quality and origin of foods, which is not particularly easy in preparation of delicate Japanese dishes such as sashimi (raw fish) and some vegetables," he continued.
"Lastly and most importantly, is our people," Yamaguchi explained. "Our Japanese officers and crew have little turnover and know the faces of our repeat passengers. They know what we can do for them. Although we also employ many Filipinos, we select them very carefully to make sure they mesh with the Japanese crew and passengers. I personally attend the interviews in Manila. The crew is trained for four weeks before embarkation with one-on-one lessons which we have developed in house.
"It is about consistency in one segment of the market for us. We will continue to cater to the niche of high-end tourists who appreciate Japanese culture."
See the full Asian market report in Cruise Industry News' special Asia issue for the Cruise Shipping Asia-Pacific conference in Singapore Sept. 17 to 18.