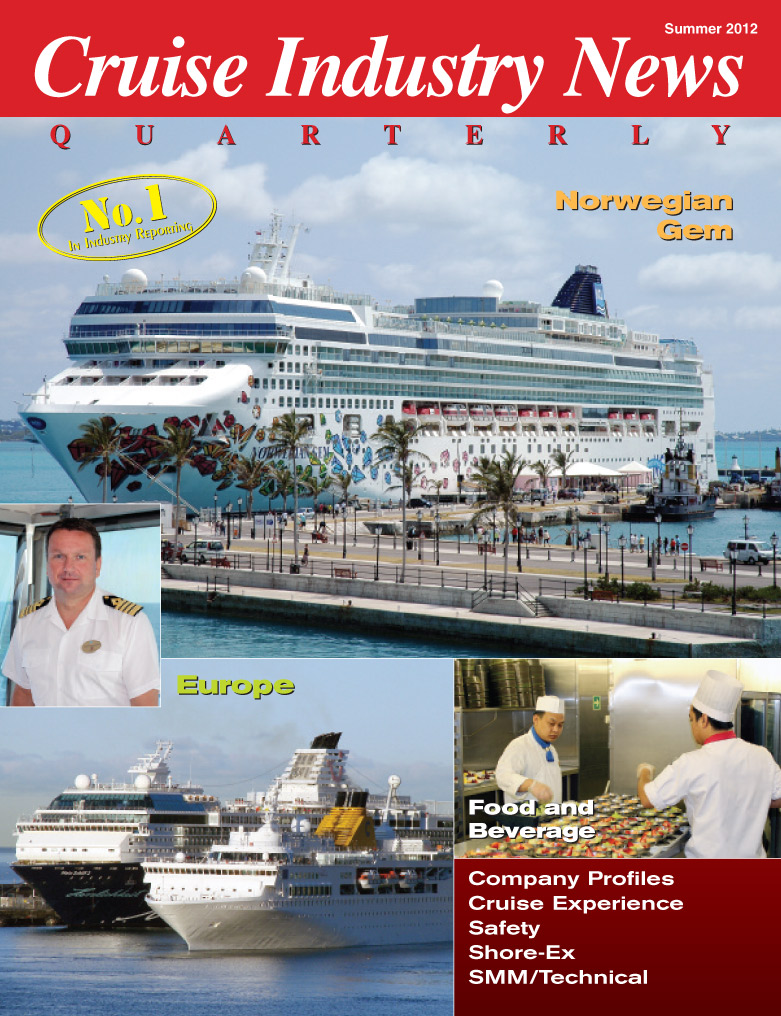 Cruise Industry News (CIN), the leading source on the global cruise business, is exhibiting at SMM in Hamburg, Sept. 7-10, with its 2012 Summer Quarterly Magazine, featuring a hefty SMM/Technical section.
The 148-page magazine looks into technical aspects of the cruise-ship business such as the upcoming $155 million refurbishment of the Carnival Destiny and air bubble lubrication in regards to fuel savings.
Read the special section, online, here.
Exclusive interviews with marine operations executives provide inside information on trim optimization and fuel efficiencies, while CIN details how Carnival Corporation, which operates some 100 ships, narrowed 35 ballast water suppliers down to just 10 before selecting one.
Additionally, the 89th edition of the Quarterly Magazine's main focus is on Europe, which is described as a "Sea of Challenges," as the editorial staff tracks down and catches up with the leading European cruise lines – talking about everything from deployment to per diems.
CIN has also joined the United States Coast Guard, cruise line and class society executives in an exclusive behind the-scenes look at cruise ship inspections.
Onboard the Norwegian Gem, CIN provides exclusive in-depth interviews with the Captain and Chief Engineer.
Other topics include the Cruise Experience, touching on safety/security, branded spaces, entertainment and cleanliness, and as always, a large Food and Beverage package catches up with what is new and different aboard.
Cruise Industry News is exhibiting at SMM, in the American Pavilion. Booth B7.418B.
About CIN: With a combined circulation of more than 7,000, and a readership of more than 40,000 Cruise Industry News (CIN) covers all the cruise lines, shipyards and other key decision-makers. CIN publications are read by the decision makers at all the cruise lines and aboard the ships; and by shipyard executives, marine engineers, naval architects, and ship designers.
Publications include the Quarterly Magazine – the subscription price is $75 within the U.S. and $110 to all overseas destinations for four issues; a daily, leading-industry website at cruiseindustrynews.com; and the Annual Report — the only book of its kind — presenting the entire worldwide cruise industry, from new ships on order to supply/demand scenarios from 1987 through the year 2016; plus reports on relevant issues, financial results, newbuilding and second-hand ship values, shipbuilding, new technology, onboard services, and more; plus exclusive reports on each sailing region; plus a comprehensive directory of all the cruise lines, shipyards, ports and suppliers.
Exclusive industry coverage is based on Cruise Industry News' more than 25 years of experience and insight.