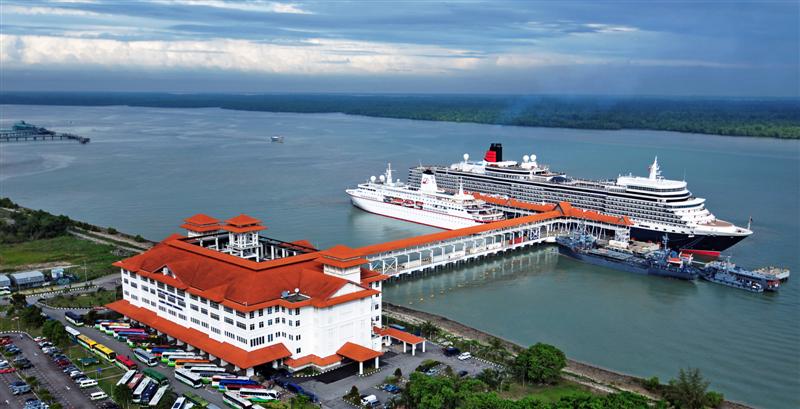 In Malaysia, Ahmand Kamal Abdollah, spokesperson for Port Klang said: "Together with Malaysian government agencies, we have set up a cruise task force to further develop the industry at the micro level. At the macro level, we understand all too well the importance of networking in this industry and are founding members of the Malaysian Cruise Council and the Asia Cruise Terminal Association."
Abdollah said he sees multiple drivers of future industry growth in the region, noting the growing Chinese consumer base, improved product quality offered by cruise lines as well as shore excursion operators and other suppliers; and a growing awareness of cruising throughout the region.
Port Klang is expecting 195,000 passengers this year, up from 187,000 last year, according to Abdollah. The port was acquired from the Star Group by the Glenn Marine Group in 2010.
Since the acquisition, dolphins have been added to increase the length of Berth 3 by 88 meters and decking between existing dolphins for more operational space.
Today, Port Klang can accommodate one Oasis-class ship at its main outer 438-meter dock, including dolphins, and two inner docks are capable of handling ships up to 200 meters in length.
"We have received up to 7,000 passengers and crew in a single day and can handle more," Abdollah said.
Plans call for adding decking on Berth 1 so it can accommodate two 2,000-passenger vessels at the same time. Abdollah said the decking does not involve extending the berth length, but increasing the linear pier to accommodate gangways and provisioning requirements.
Port Klang has also stepped up its marketing efforts, engaging directly with cruise lines and participating in industry events, Abdollah added, who said the port is also working with the Singapore Cruise Center.
The gateway to Kuala Lumpur, Port Klang saw a maiden call by the Voyager of the Seas this past May. Carrying nearly 3,000 passengers, according to the port, which said that 70 percent were from North America and Europe.
See the full Asian market report in Cruise Industry News' special Asia issue for the Cruise Shipping Asia-Pacific conference in Singapore Sept. 17 to 18.