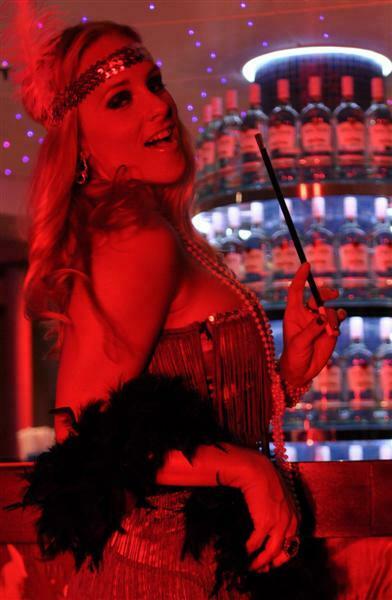 The talented team of bartenders and chefs of Royal Caribbean International's Allure of the Seas were recently treated to a legendary BACARDÍ party, a prize they earned in the 7th annual Bacardi Cruise Competition.
BACARDÍ is marking its 150th Anniversary by celebrating 150 years of legendary parties so the Allure of the Seas celebration was a night the deserving crew had all been waiting for. With Bacardi Travel Retail Cruise Ambassador Trevor Burnett and his team onboard the event was certain to exceed all the expectations of the winning team of chefs and bartenders and more than 1,000 fellow crew members.
The celebration was given a 1920s Prohibition theme with a lounge transformed into a giant speakeasy offering samples of classic cocktails inspired by BACARDÍ rum including the original BACARDÍ Cuba Libre, the authentic BACARDÍ Mojito and the original BACARDÍ Daiquirí.
"We thank Bacardi for recognizing Allure of the Seas' talented staff and crew with this wonderful prize," said Frank Weber, vice president of Food & Beverage Operations, Royal Caribbean International. "We are honored with our Bacardi Cruise Competition awards for our innovative dining and beverage concepts, including the Bacardi Chef of the Year title for Chef Ramesh Thirumal."
"This remarkable night is what the Bacardi Cruise Competition is all about," added Zachary Sulkes, Regional Manager, Bacardi Travel Retail Americas. "We want to celebrate the achievements of the talented individuals onboard cruise ships and ferries around the world so it's very satisfying to know that we were able to reward the entire onboard team with one of our legendary parties in our 150th Anniversary year."
Bacardi Global Travel Retail created the Bacardi Cruise Competition to support the cruise industry and recognise the talent of onboard bartenders and chefs. Year-on-year, the competition draws innovative cocktail and culinary recipe entries from the best cruise and ferry line staff in the world.
Over the last seven years, in collaboration with its cruise channel partners, the Bacardi Cruise Competition has inspired thousands of talented bartenders and chefs to create exciting new recipes which deliver an ever-increasing level of quality and innovation. At this year's final held in March, South African, Adri Ford of Carnival Cruise Lines® was named the Bacardi Bartender of the Year for her creation, the 'GREY GOOSE® Pink Victoria', while Ramesh Thirumal from Royal Caribbean International claimed the Bacardi Chef of the Year title for his recipe 'GREY GOOSE Halibut Vitality'.