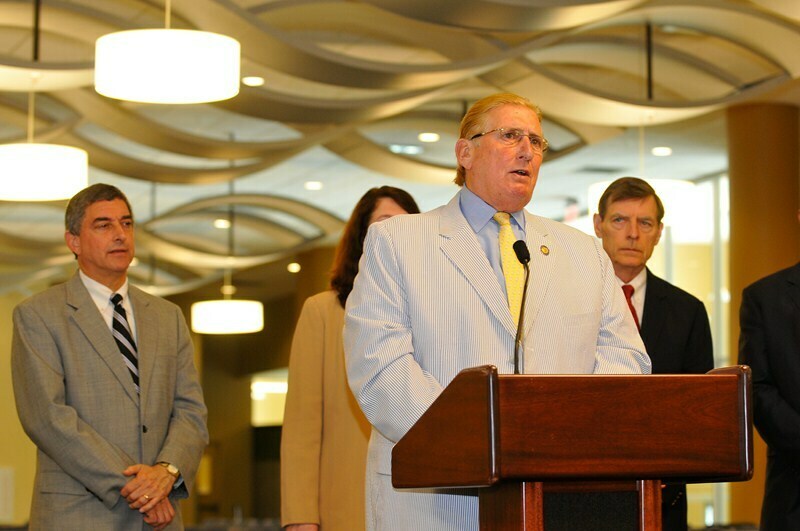 Lt. Gov. Jay Dardenne joined the Board of Commissioners of the Port of New Orleans today to dedicate the newly renovated Julia Street Cruise Terminal. The $20.1 million construction project consolidates two small cruise terminals into one large, modern facility. The improvements allow the Port of New Orleans to accommodate larger ships and handle more cruise passengers.
"The growth of cruise activity at the Port of New Orleans has added a new dimension to Louisiana's tourism offerings," said Dardenne, Louisiana's chief tourism official. "Most cruise passengers stay in Louisiana before or after their cruise. That translates into a world-class travel experience for our visitors, and jobs for our citizens in Louisiana's hotel, restaurant and retail sectors," Dardenne said.
The Julia Street Project generates about 150 new jobs. The Port of New Orleans' cruise operations contributes $371 million annually to the local and regional economy and supports 4,454 jobs, according to research conducted by Business Research and Economic Advisors. Each voyage by a cruise ship generates roughly $950,000 in direct local economic impact.
Cruises also have a big impact on the local tourism sector. The Port of New Orleans is expected to close out 2013 with 1 million cruise passenger embarkations and disembarkations. About 76% of cruise passengers visit the Crescent City before or after their cruise, and 88% of these passengers stay in the city overnight with an average visit of 1.8 days.
"Cruise ships are getting bigger and that creates more recreational opportunities for passengers and more economic opportunities for port cities. In order to keep up with this trend, the Port of New Orleans has made significant investments in our cruise terminal," said Gary LaGrange, Port President and CEO. "We are marketing aggressively to a number of cruise lines, and we have an expansion footprint that will allow us to keep growing."
The Julia Street Cruise Terminal serves as the homeport for Royal Caribbean International and Norwegian Cruise Line, each of which sail one vessel out of New Orleans during the winter cruise season. The 1,020 foot long Royal Caribbean Voyager of the Seas is the largest cruise ship ever to call the Port of New Orleans. She accommodates 3,838 guests.
The Erato Street Cruise Terminal, located next to Julia, is the homeport for Carnival, which has two ships making 4-, 5- and 7-day cruises sailing from New Orleans all year long. The Erato Street Cruise Terminal opened in 2006, and features a 1,000 vehicle parking garage.
Both cruise terminals are located in downtown New Orleans, about one mile from the French Quarter.
The Julia Street project involved improvements to the wharf, completed by Silverton Construction Co.; and gutting and rebuilding 107,000 square-feet of terminal area, handled by Ryan Gootee General Contractors, LLC. FMT, a Swedish company that makes gangways for airports and cruise ports built the climate controlled, articulating gangway that allows passengers to comfortably and safely board the ship, regardless of the weather or the seasonal fluctuation of the river stage.
Convenient, pier-side parking was created by making a passage from the cruise terminal to the neighboring Hilton Riverside Whale Lot. A portion of that surface parking lot is reserved for cruise passengers.
The improvements were supported by an $8.1 million grant from the Louisiana Port Priority program and $12 million from the Port's capital improvements fund.
A pedestrian skyway was also completed that allows for better access between the cruise terminals, the Ernest N. Morial Convention Center, the Riverwalk Marketplace and the Riverfront Streetcar Line. That $725,000 project was supported by federal grants through the Regional Planning Commission.