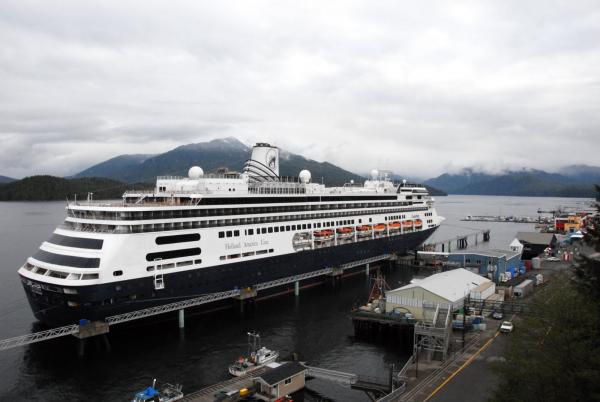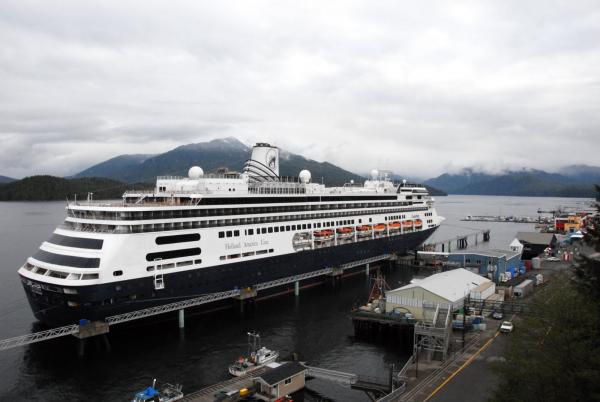 One week after the departure of the first and largest cruise ship to visit Prince Rupert this season, the Prince Rupert Port Authority has announced that feedback from passengers, crew, and the community was overwhelmingly positive, supporting the port's strategy to attract additional cruise visits.
"We learned that Prince Rupert's unique offering of world-class excursions and community hospitality resonated powerfully with passengers aboard the Holland America Zaandam," said Shaun Stevenson, Vice President of Trade Development for the Prince Rupert Port Authority. "This adds significant strength to our efforts to attract regular cruise visits within the next few years."
Prince Rupert has hosted over half a million cruise ship passengers since opening its new terminal in 2004. Strategically located for Alaska cruise itineraries on the Inside Passage and perched on the edge of the Great Bear Rainforest, the city has demonstrated its appeal to visitors with an extensive array of tours, experiences and adventures that take advantage of its rugged landscape, rich history, and abundant wildlife.
Guest satisfaction surveys were collected during Friday's ten-hour visit of the Holland America Zaandam. Despite rain showers and low temperatures, responses were almost exclusively positive. "Of 101 countries visited in 32 years, we've never had such a warm welcome," reported one couple. "This is one of the most organized, best stops on our cruise."
Some passengers indicated they would be writing the cruise line to urge that Prince Rupert be included as a permanent port of call for future Holland America cruises.
Guests rated Prince Rupert based on categories that included friendliness, service, shopping, cleanliness, signage and tour variety, with all categories scoring an average of over 80%. When asked for their most memorable experience, almost 50% of guests cited the welcoming of the community.
Volunteers served as ambassadors and interpreters throughout the day. "I liked meeting the passengers and sharing stuff I know about my hometown," said Seamus McConville, a Grade 11 student from Charles Hays Secondary School. "And all the appreciative things they said to us made us feel really good. My friends and I will definitely be volunteering again."
A team of volunteer Social Media Ambassadors solicited video testimonials throughout the day, the bulk of which can be viewed online at www.youtube.com/rupertport.
The ship's crew also shared positive impressions. "Feedback we received from Zandaam staff told us how impressed they were overall with Prince Rupert," said Phil Westoby, Cruise Development Coordinator for the Prince Rupert Port Authority. "From the successful tours to the friendly volunteers and unique performances, Holland America and their guests have definitely taken note of Prince Rupert as a port of call worthy of a share in the Alaskan cruise market."
Prince Rupert is also looking forward to welcoming vessels from Regent Seven Seas and Silversea Cruises later this season.