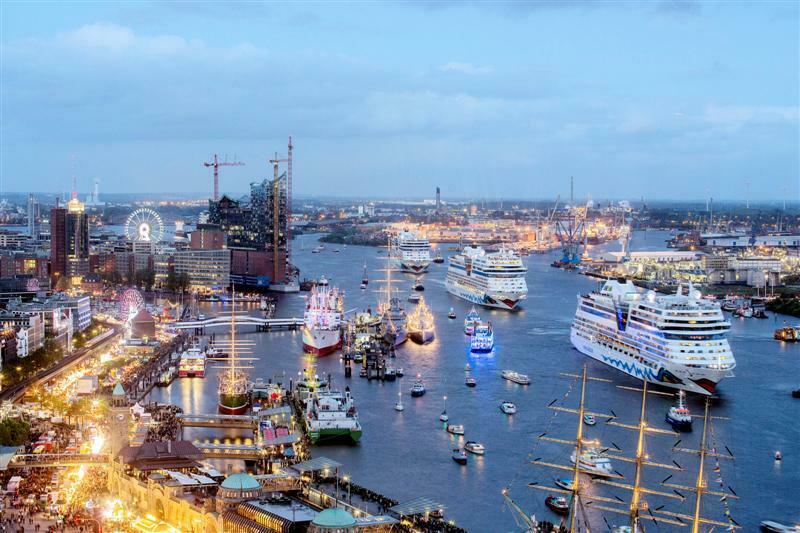 The latest cruise ship of the AIDA fleet – AIDAmar – was christened on the evening of May 12, 2012 with an extravaganza at the Port of Hamburg, accompanied by her three sister ships. A total of 1.4 million guests attended the Port of Hamburg's 823rd anniversary celebrations.
"The Port of Hamburg's anniversary celebrations have set new standards with the world's largest ship's inauguration ceremony for AIDAmar. Hundreds of thousands of people attended the evening between the Grasbrookkai and the Fischauktionshalle. Thanks to the spectacular ceremony for AIDAmar, Saturday was also, in terms of visitor numbers, one of the busiest days ever in the history of the Port of Hamburg anniversary celebrations", estimated Dietrich von Albedyll, Chairman of the Board at Hamburg Tourismus GmbH.

The cabins on board the four ships from the AIDA fleet had all been sold out far in advance, with more than 10,000 AIDA guests on the River Elbe to experience the event live. After the inauguration, the night sky above the Port of Hamburg was lit up by a spectacular firework display.
"Hundreds of thousands of people watching the inauguration of AIDAmar in Hamburg have experienced how fascinating and attractive cruise holidays can be. The huge public interest underlines the excellent prospects for the future of our growth sector", said Michael Thamm, CEO-designate of the Costa Group and spokesman for the international cruise industry in Germany.
The visitors in Hamburg were able to experience the inouguration spectacular at first hand via two large LED screens, with hundreds of thousands of viewers around the world following the christening live on the Internet.