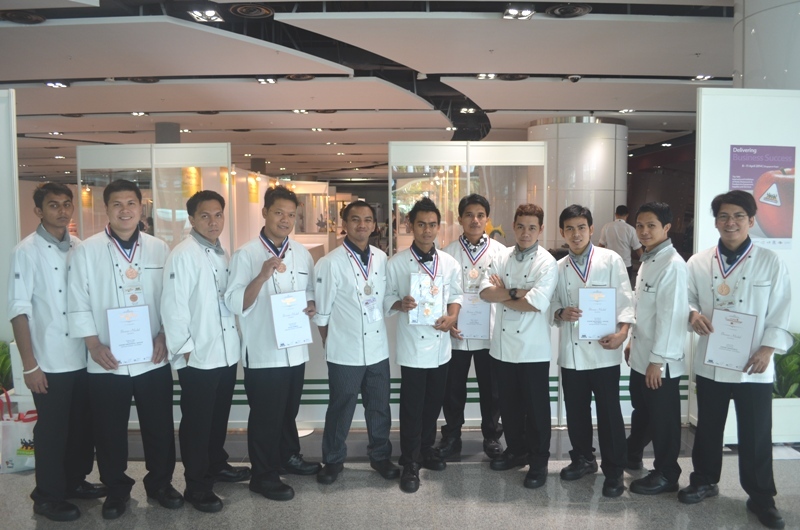 Star Cruises, the leading cruise line operator in Asia Pacific, is pleased to announce that up-and-coming members from its chef teams have been honoured with seven awards at the reputable Food&HotelAsia Culinary Challenge 2012 (FCC) awards recently.
The 31-year-old Shah Irwan Omar, Chef de Partie on SuperStar Libra (SSR), debuted at FCC Awards with a Silver Award (Plate Dishes category). His innovative and mouth-watering dishes included Stuffed Oak Duck Breast Magnet with Apple & Foie Gras and Triangle of Pan Roasted Hokkaido Salmon stuffed with Squid & Prawn Mousse.
His creative interplay of the flavours and texture accentuated the essences of carefully-chosen ingredients and won over the judges' experienced palates. Eye-pleasing food presentation further added credits to his creations.
Star Cruises is the only cruise line that was honoured at FCC Awards. In addition to the Silver Award, Star Cruises' chef teams also collected a Bronze Award (Plated Dishes) for SSR Sous-Chef Ferdinand Sulla; a Bronze Award (Asian Meal) for SSR Chef de Partie Mohd Nasir; a Bronze Award (Plate Dishes) for SuperStar Virgo Chef de Partie Zaldy Zapanta; a Bronze Award (Pastry Showpiece – Marzipan / Sugar) for SSR Pastry Chef James Chiu; a Bronze Award (Pastry Showpiece – Dough Figurine) for SuperStar Aquarius Assistant Chief Baker Bobby Caiga; and Bronze Award (Pastry Showpiece – Dough Figurine) for SuperStar Aquarius 3rd Pastry Nier Alfarero. Renowned hotels such as JW Marriot Hotel Seoul and Sheraton Grande Walkerhill (Seoul) were also awarded in these categories.
Mr Cheng Foong Sim, Senior Vice President, Hotel Operations, Star Cruises said, "We would like to thank FCC Awards for recognizing our outstanding chef teams. We are very proud of our young chefs and their ingenuity in perfecting dishes that surprise and excite customers' culinary experience. These F&B industry recognitions will surely encourage them to further hone their culinary skills."
He continued, "Star Cruises will undoubtedly continue our drive to groom and nurture local talents from the regions we operate in, and contribute to the growth of the tourism industry as a whole."
Guests of Star Cruises will be able to attest to the culinary brilliance of the award-winning chefs on Star Cruises' various restaurants, which offer a wide range of cuisines from international to Southeast Asian.
Food&HotelAsia Culinary Challenge 2012 is dedicated to recognizing culinary excellence and promoting the Asian food and hospitality industry. It is widely recognised as a reputable arena in Asia for budding F&B talents to seek accreditation by a judging panel of internationally acclaimed chefs.