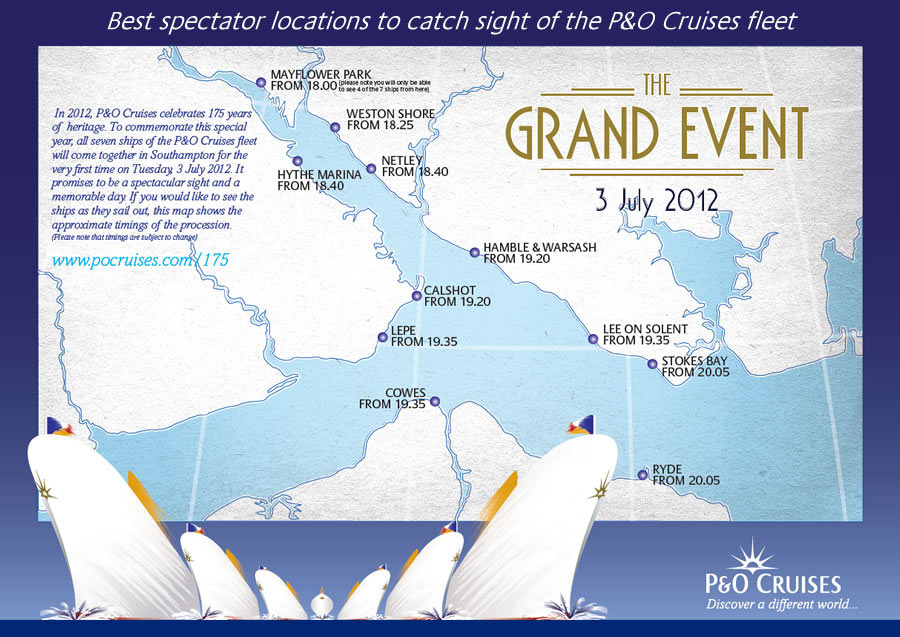 P&O Cruises can trace its roots back to 1837 and this year is celebrating 175 years of heritage. The Grand Event on Tuesday July 3 is part of these celebrations, with all seven ships in Southampton for the first time. Thousands of people are expected to line the shore to witness this historical occasion, joining the 14,000 passengers and 6000 crew on board the seven ships.
A map showing all the best vantage points and times to witness The Grand Event sailaway has been released. Starting with the sailaway from Southampton, the map charts the progress of the seven ships out into the Solent, meaning that onlookers and well-wishers can secure themselves a good spot to observe the historical event.
P&O Cruises managing director, Carol Marlow, said: "This day is one of the most significant days in our history, as all our seven ships gather in their home port on the same day for the first time ever. As we look forward to exciting plans for our next new ship in 2015, it is fitting to be celebrating our past as it has helped us become known as Britain's trusted cruise experts."
As each ship departs on its own Grand Event cruise, passengers on board will enjoy a special deck party to see them off in style. The ships will then form a procession as they leave Southampton and head down the Solent. Where the channel widens, the ships will move into a formation to be photographed from the air before they sail onwards to their various destinations.
Departing on July 3, 2012, all seven cruises will be heritage themed with special onboard entertainment including a 175th Anniversary Gala dinner, heritage display, guest speakers and more. There will also be a prize draw on each cruise for one couple on each ship to win a full world cruise of their choice in 2013.