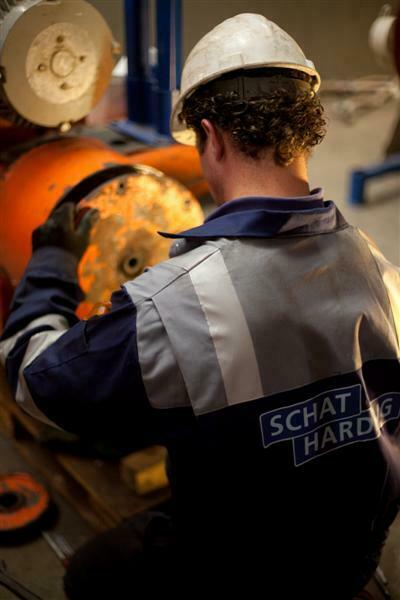 Lifeboat manufacturer and service provider Schat-Harding has widened the range of its global service network to cover multi-brand servicing and the re-hooking of lifeboats. For the first time, shipowners and offshore operators will be able to get most of their lifeboats, hooks, winches and davits serviced by a trained engineer working to the highest global standards, backed by a global service network. They will also be able to use Schat-Harding's range of modern hooks to replace older models which may no longer meet IMO standards in most boats.
Birger Grathen, CEO, Schat-Harding Service, said: "This is a major step forward for shipowners and offshore operators. They don't have to risk using small and unauthorised lifeboat service and testing stations, or hooks from companies with no track record. Rather, they can now benefit from the same high standards as those already enjoyed by owners with Schat-Harding brand equipment. Our global network of service stations and partners is now authorised to service over 500 lifesaving products made by other Original Equipment Manufacturers, on top of all the products delivered by the fifteen major brands we own."
Norwegian-headquartered international shipowner DOF, which owns and operates a large fleet of modern offshore and sub-sea vessels, is one of the first companies to take advantage of Schat-Harding's multi-branding initiative. It has recently signed a 65-vessel Fleet Service Agreement with Schat-Harding. Marita Ottera, Head of Procurement at DOF Management AS, says, "The agreement with Schat-Harding will afford us good control with regard to the approved quality and safety of the equipment on our lifeboats, and a simplified follow-up procedure for lifeboat systems on board our ships. We are very happy to have Schat-Harding support the equipment on board our ships and to do the work in an efficient and cost-effective way."
IMO SOLAS regulations require a strict and regular service and testing routine for life- saving appliances, and new requirements have recently been put in place to test all lifeboat hooks and bring them up to new standards.
"The best way to get equipment serviced or updated is to use the people who design and build lifeboats, winches, davits and hooks, and who have the trained people to do the job properly," added Birger Grathen. "That is why we built up the world's biggest global service network and have invested heavily in training and in our SHIELD database. We want to give lifetime support to the owners who have our equipment. But most shipping and offshore companies have mixed fleets of vessels with a mix of lifeboat equipment from different manufacturers. It is much easier and cheaper if they can use one company to service and upgrade all the equipment. Owners are also now facing a one-off challenge of having to test all the lifeboat hooks to see if they comply with retrospective IMO standards, and to replace hooks where necessary. That will be a big task, again made more cost-effective by using one supplier for the whole job.
"That is why Schat-Harding is seeking a wide range of approvals and access to original manuals and spares. It has also trained its engineers and put in place quality control criteria to ensure that they can safely service equipment from most manufacturers, and install our SeaCure hooks into most boats, while maintaining the global high standards which currently apply to Schat-Harding brands."