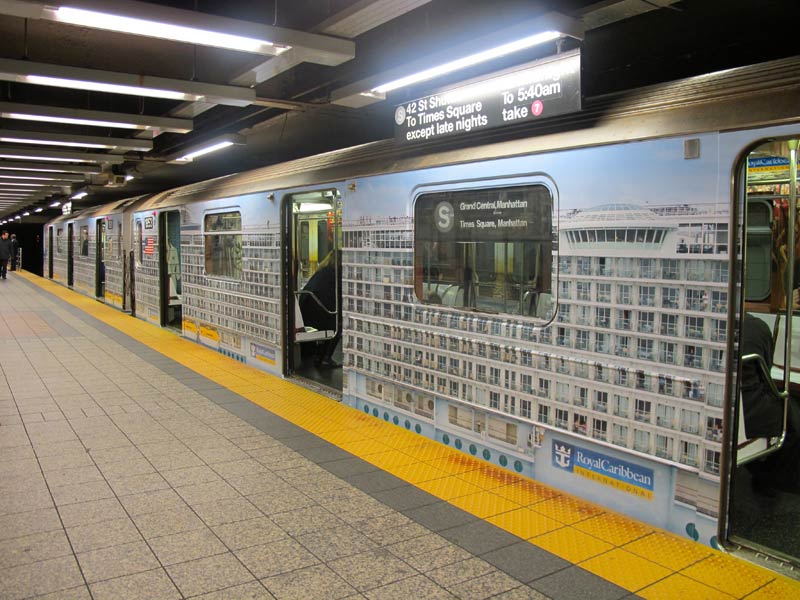 Royal Caribbean International's new brand campaign is targeting New York-area commuters, both above and below ground, by taking over the 42nd Street S line in Manhattan this February. As commuters are transported between Times Square and Grand Central Station, the award-winning cruise line is giving them a taste of the Royal experience with fully-branded shuttle cars supporting the cruise line's new messaging. First rolled out in December 2011, the campaign is focused on reawakening consumers to the sights and sounds of the sea by communicating the decree, "The Sea is Calling. Answer it Royally."
The subway cars, which are wrapped both inside and out, reflect actual Royal Caribbean cruise ships. The cars' interiors are each separately wrapped as an onboard theater featuring marquees of some of the Broadway shows guests can see onboard select Royal Caribbean ships such as Hairspray, Chicago and Saturday Night Fever; an onboard spa with bamboo showers and masseuse; as well as an open deck area complete with a Flowrider surf simulator and surfer. Each car conveys the options for entertainment, relaxation and adventure that can be enjoyed on a Royal Caribbean cruise vacation. Commuters, who will be treated to special surprises during the month, are encouraged to take photographs and videos to share with friends through their social media channels, tagging Royal Caribbean by using the specified hashtag #RoyalShuttle. Royal Caribbean also challenges fans to find "hidden treasures" in the shuttle artwork, including characters such as Shrek and Po from the cruise line's exclusive partnership with film studio powerhouse DreamWorks Animation.
For New York-area residents inspired to escape the hustle and bustle of daily life, Royal Caribbean offers convenient cruising options to Bermuda and the Caribbean out of Bayonne, N.J., and Baltimore, Md., onboard Explorer of the Seas and Enchantment of the Seas. Royal Caribbean's innovative onboard amenities, upscale accommodations, dining and entertainment are all delivered with the cruise line's signature Gold Anchor Service, all within a few-hours drive from home.
To further support the campaign, Royal Caribbean is offering a special "Book to Win" incentive for travel agent partners who book 2012 Bermuda sailings on Explorer of the Seas and Enchantment of the Seas, between Feb. 6 and Feb. 20. A minimum of five cruises are required to qualify for contest entry. The grand prize winner, announced on Feb. 20, will receive dinner at an exclusive Grand Central Terminal restaurant, a ride on the Royal Caribbean branded shuttle to Broadway, and tickets to the hit Broadway show "Chicago." The second place winner will be awarded a $100 gift certificate. Agents also are invited to visit the Royal Caribbean shuttle experience and share pictures with clients through their personal social media pages.