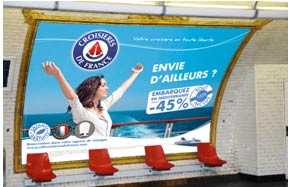 Croisières de France will launch an ad campaign on the Paris Metro, running from February 12 to 19, 2012.
For seven days, the campaign will include over 200 posters that are 3 meters by 4 meters, in an effort to develop brand awareness in the French marked.
"This campaign aims to enhance the image and reputation of the cruise highlighting the undoubted strengths and attractions of the cruise," said a statement from the cruise line.
Children sail free, and the voyages are all-inclusive, said the line.
Croisieres de France will begin its 2012 deployment with a new-to-them ship, the l'Horizon, which replaces the Bleu du France, having been sold to Saga.
The l'Horizon offers different seven-night programs from Marseilles, starting on April 8, through October. At press time, 2013 deployment had not yet been announced, and previous history would put the CDF capacity in South America under the Pullmantur banner for winter 2012/2013.