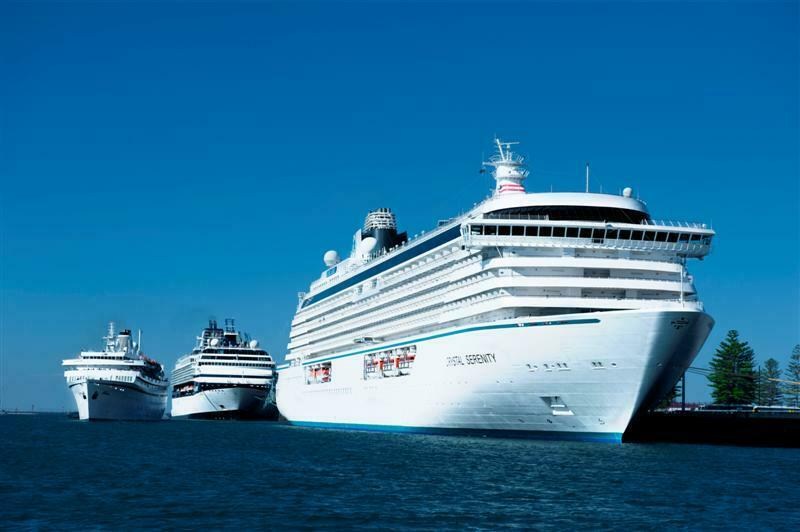 Four cruise ships, including one of the world's largest, docked at Port Adelaide recently over a weekend, bringing up to 10,000 passengers and crew to South Australia.
Tourism Minister Gail Gago said the weekend was a South Australian first, with three cruise ships docked at Outer Harbor on the same day.
The Queen Mary 2 (QM2) arrived on Saturday morning with up to 2,620 passengers and 1,200 crew.
"The QM2 is the largest ocean liner ever to cruise in Australian waters," Ms Gago said.
"Then on Sunday we welcome the Celebrity Century, Crystal Serenity and Athena.
"With so many passengers and thousands of sightseers expected, the atmosphere at the port will be buzzing."
The Celebrity Century carries 2,150 passengers, Crystal Serenity 1,100 and the Athena 550.
"Trading hours were extended in Rundle Mall on Sunday, with shops opening from 9.30am, and live music and entertainment for the passengers to enjoy," Ms Gago said.
"Many passengers will also opt for the day trips on offer, exploring Adelaide, the Barossa, Peninsula and the Adelaide Hills.
"Passengers from the four ships wereexpected to spend $360,000 over the weekend in Adelaide and the surrounding regions.
"In addition, the South Australian based Athena will pump $3 million into the state's economy this season, including expenditure in regional destinations when it visits Kangaroo Island and Port Lincoln."
Ms Gago said this weekend was a landmark in the State Government's successful push to put South Australia on the map as an international cruising destination.
"Between 2004-05 and 2009-10, there has been a 450 percent increase in ship arrivals and a 685 percent increase in passenger numbers," she said.
"This clearly shows that we are not only attracting more cruise ship visits, but visits from much larger vessels.
"We have also successfully focused on attracting cruise visits to regional ports and in 2012-13 we will see seven cruise ship arrivals at Port Lincoln, Kangaroo Island and, for the first time, Robe."