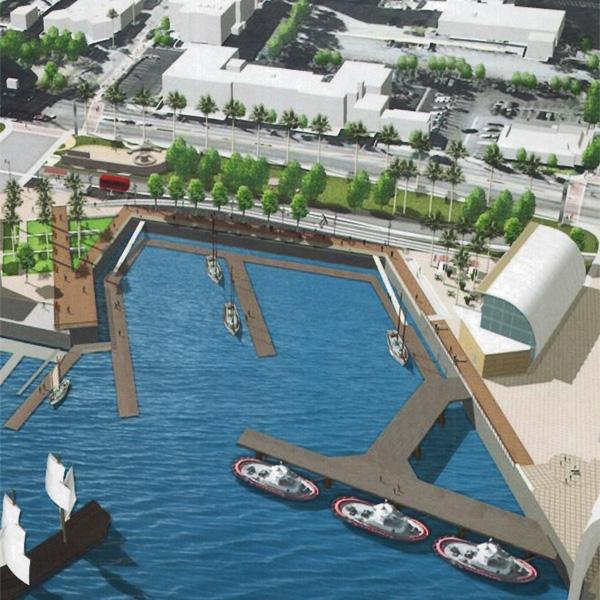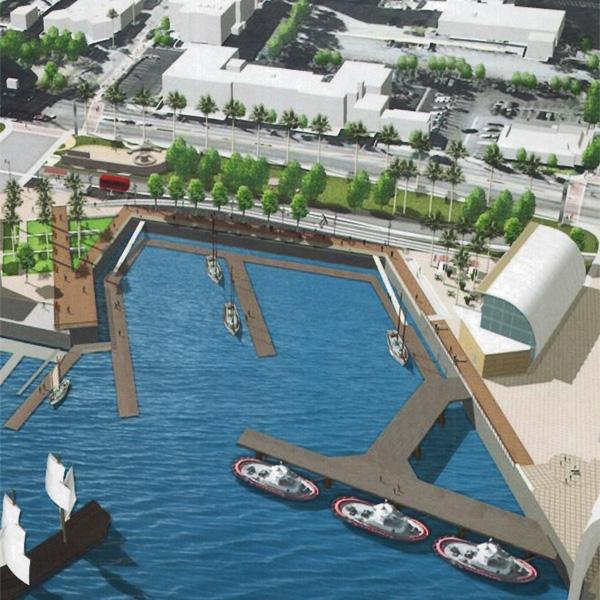 The Los Angeles Board of Harbor Commissioners has approved a $13.5 million construction contract to ready a prominent, downtown-adjacent section of the San Pedro waterfront for a new open public space and harbor area. The approved Downtown harbor "water cut" will create the necessary land and harbor infrastructure to accommodate development of a new town square and promenade on the water. The location, just north of the Las Angeles Maritime Museum, will become a centerpiece of the ongoing revitalization of the LA waterfront, according to a statement from the port.
"The Downtown Harbor development will be a crown jewel of the emerging LA Waterfront," said Port of Los Angeles Executive Director Geraldine Knatz, Ph.D. "This is the first major infrastructure project as a result of the Harbor Commission approval that we received in 2009 and the focus is on downtown first."
The Downtown Harbor project will cut into approximately 1.2 acres of existing waterfront land along Harbor Boulevard between Fire Station 112 to the north and the L.A. Maritime Museum to the south, creating a new harbor inlet for vessels to dock and approximately 700 linear feet of promenade. Surrounding the inlet will be a modern town square, featuring new landscaping, lighting and expansive promenades.
Demolition and construction will be undertaken by contractor Reyes Construction of Pomona, California. The contract scope includes demolition of an existing downtown harbor parking lot, soil excavation and dredging, removal or relocation of existing utilities on the site, construction of a sheet pile wall system and extension of the Berth 85 tugboat wharf by 25 feet.
Since the Environmental Impact Report (EIR) for the Downtown Harbor development project was approved in 2009, a series of public workshops have been held to gather feedback from the community and finalize design aspects. As a result, several design elements were changed, which included adding more open space, widening the promenades, improving the physical and visual connectivity with downtown San Pedro. A public art display is also planned for the site.
The groundbreaking ceremony to highlight the start of demolition and construction activities will take place in January 2012. The construction project is expected to take approximately 16 months to complete. Development of the Downtown Harbor town square and promenade will follow and is expected to take an additional 12 to 18 months.