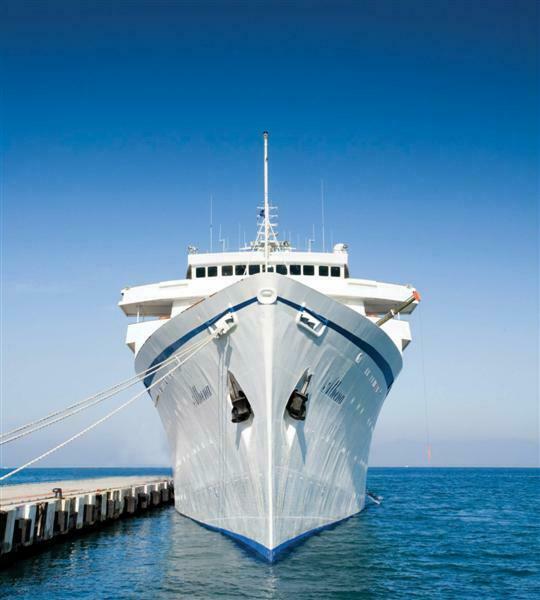 Australia's liner, the Athena, will be the first-ever cruise ship to visit the Victorian town of Portland – Australia's newest cruise destination – as part of Classic International Cruises' newly-released 2012/13 summer cruise program, which will also feature a return season in Adelaide, the cruise line's first Easter cruise in Australia and a new rock'n'roll cruise.
Athena's inaugural visit to Portland in western Victoria on February 5, 2013, will form part of a new five-night round-trip itinerary from Adelaide which also includes visits to Melbourne and the South Australian town of Robe where the 550-pasenger Athena will be only the second cruise ship to anchor off the Limestone Coast town, following a call by the smaller 106-passenger Orion in November, 2010. The oldest European settlement in Victoria and once home to Australia's first saint, Mary Mackillop, Portland is close to the historic fishing village of Port Fairy and famous Twelve Apostles along the Great Ocean Road. And Robe is close to the World Heritage-listed Naracoorte Caves.
A new brochure for Athena's 2012/13 Australian summer season has been released, with Classic International Cruises to offer 17 cruises lasting from two to 40 nights to and from Fremantle/Perth and from Adelaide. Extending more than six months from November, 2012, to May, 2013, the 2012/13 program will be Classic International Cruises' ninth successive season in Australia's west.
Fares start from $470 per person for two nights with children under 18 cruising for free on nine selected cruises, with only nominal taxes to pay. And supplements for solo travellers in selected cabins are as low as 25 percent, instead of double. The currency onboard Athena is Australian dollars.
Athena's 2012/13 will also feature:
• A return season from Adelaide, with Athena offering five cruises to and from the SA capital, including round-trip itineraries to destinations such as Tasmania, Victoria, Kangaroo Island, Port Lincoln and Robe. The 12/13 season will be Athena's fourth series of cruises from the South Australian capital after the success of Athena's seasons there in 2008/09, 09/10 and the coming 11/12 program in Adelaide.
• CIC's first Easter cruise from Australia – a five-night holiday from Fremantle to the spectacular beaches of Esperance and Albany, sailing Easter Thursday, March 28, 2013. Fares from $1095 per person.
• A special four-night rock'n'roll music cruise, sailing from Fremantle on April 2, 2013, to Albany and Bunbury – fares from $795 per person
• Maiden visits by Athena to Kagoshima in Japan, Keelung in Taiwan, Busan in South Korea and Manila in The Philippines as part of a 38-night Far East voyage from Fremantle on February 18, 2013. The cruise, which includes 12 Asian ports as well as Christmas Island, is available from $5995 pp
• Maiden calls by Athena to Dubai, Livorno (Florence) in Italy, Kotor in Montenegro, Durres in Albania and Muscat in Oman as part of two traditional line-voyages between Athena's s home in Europe for the northern summer and her Australian summer base in Australia
• Christmas and January holiday cruises to Bali, Lombok and Broome
"Athena's 2012/13 from Australia underscores our ongoing commitment to the growing Australian cruise market, particularly in Western Australia and South Australia," said Classic International Cruises Managing Director for Australia, Grant Hunter. "This coming summer and in 2012/13 we will again offer our successful formula of traditional cruising on a real ocean liner, affordable fares, attractive itineraries, fine cuisine, friendly and personal service and a warm and relaxed atmosphere that you only get on a smaller vessel," Mr Hunter said.
The classic-styled, 16,000-ton Athena features traditional wooden deck chairs, pool, fitness centre, five bars and lounges, casino, library, cinema and two restaurants. Athena has 276 spacious cabins and each boasts a bath – a luxury only found in suites on the latest superliners.