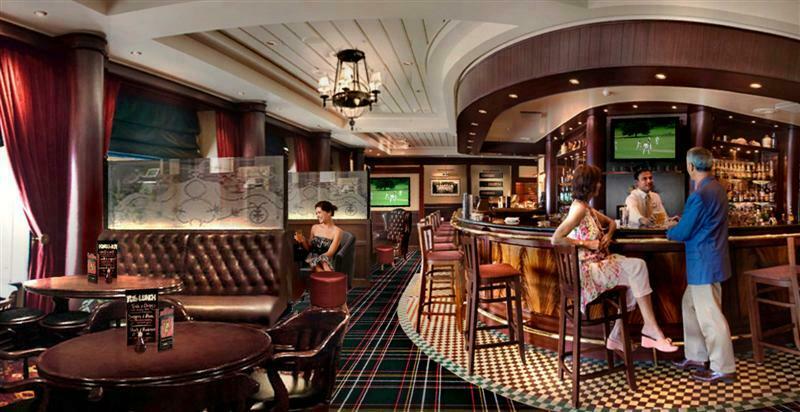 Cunard Line has released details of the planned refit of the company's flagship Queen Mary 2, in preparation for her eighth birthday in January 2012. With major refurbishments and redesigns of carpets, curtains, bedcovers and linens, and other enhancements, a luxury cruise vacation will be even more appealing aboard the grandest ocean liner at sea.
Taking place at Blohm + Voss Shipyards in Hamburg, Germany, from Nov. 24 through Dec. 7, the major soft goods refurbishments will comprise all staterooms, Canyon Ranch SpaClub®, the Queens Grill and Princess Grill Restaurants, the Commodore Club, the Veuve Clicquot Champagne Bar, Sir Samuel's, the Play Zone/Kids' Zone, and a complete redesign of the Golden Lion Pub. To ensure that the latest changes will complement the ship's signature elegance and glamour throughout, Cunard has again partnered with the noted Tillberg Design AB in Höganäs, Sweden, the company involved in Queen Mary 2's original design.
"Queen Mary 2 is an iconic leader in the world of luxury ocean travel and continues to receive high ratings by guests and the cruise industry," said Peter Shanks, president of Cunard Line. "A ship that still turns heads everywhere she goes, she is unquestionably the pride of our fleet. We are committed to maintaining that impeccable reputation, and this significant refurbishment is an important investment on behalf of our guests."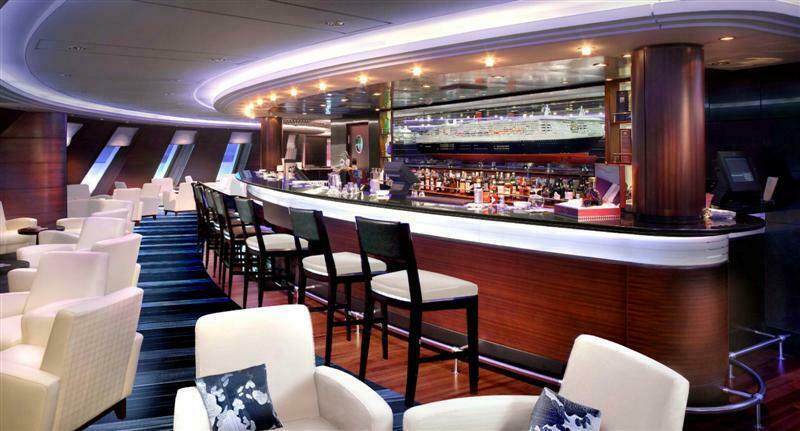 The 14-day refit will require a team of thousands of workers replacing the equivalent of almost ten football pitches of carpet and manufacturing about 18 square miles of fabric into over 6,000 individual items. Specific plans include:
• Staterooms – All 1,310 staterooms aboard Queen Mary 2 will receive a fresh look with new carpeting, curtains and beddings, and some will receive new furniture. The revised design will be in keeping with current designs but with an enhanced sense of luxurious comfort, as can be experienced in luxury hotels around the world.
• Golden Lion Pub – With its increasingly popular traditional British pub lunch menus, busy bar, exciting sports events and nightly music offerings, the pub will benefit from a complete refurbishment and redesign to enhance its endearing appeal. The new design retains the British pub atmosphere and also evokes an American country club feel similar to the warm colours and plush seating in the same venues aboard sister ships Queen Victoria and Queen Elizabeth. Upgraded television screens will also be installed.
• Canyon Ranch SpaClub – An extensive refurbishment of the first Canyon Ranch SpaClub at sea will include the teak surrounds of the hydrotherapy pool and adjacent wet areas, and a general upgrade of all the facilities. In addition, new exercise machines in the fitness centre and new and improved features in the Beauty Salon will be installed.
• Queens Grill and Princess Grill Restaurants – A new, lighter carpet design for both of Queen Mary 2's exclusive Grill restaurants will enhance the existing ambience, maintaining the reputation of these fine dining venues as among the best at sea or on land.
• Commodore Club – One of the most visited public rooms aboard Queen Mary 2, this breathtaking lounge overlooking her bow will be refreshed with a new carpet design and additions to the white leather furnishings of chairs, sofas and bar stools.
• Veuve Clicquot Champagne Bar – A popular space especially on Transatlantic Crossings, this venue featuring the exquisite Veuve Clicquot brand of champagne will see a new carpet and soft furnishings design.
• Sir Samuel's – This busy venue which features specialty coffees during the day and an impressive menu of wines at night, will receive a new compliment of carpeting and furniture coverings.
• The Play Zone/Kids' Zone – Cunard's first-rate facilities for younger guests will undergo a complete refurbishment, including new soft play areas, plus upgrades to the very latest in electronic gaming technology and entertainment.
Carpeting of public areas, central walkways and landings on Decks 2 and 3 will also be completed, which began with the ship's last refit in 2008. In addition to the current major refit, when Queen Mary 2 returns to service on 8 December, she will introduce several new on board features, details of which will be disclosed soon.