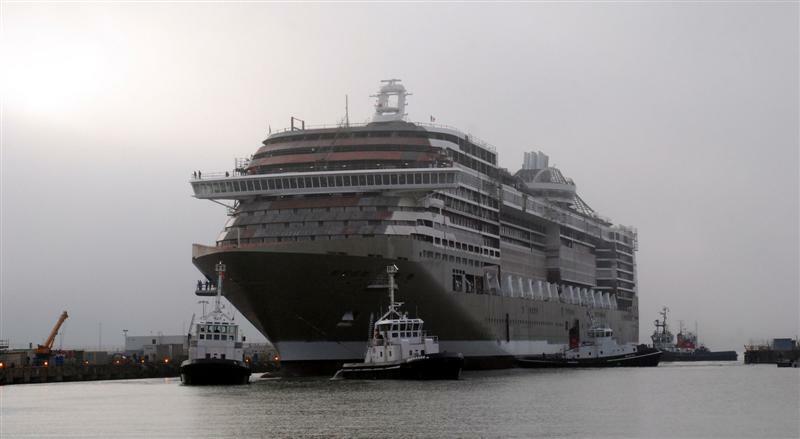 MSC Divina, the third and latest addition to the MSC Cruises' flagship Fantasia class, was ceremoniously floated out of dry dock B of the STX Europe ship yard in Saint-Nazaire, France on Saturday September 3 and transferred to dock C for final fitting and furnishing ahead of her christening in May next year.
Representing a major milestone in the mammoth build of the new 140,000 ton, 4,363 passenger cruise ship, the occasion was witnessed by a select group of guests who gathered to applaud the ship which will become the 12th and most magnificent of the MSC Cruses fleet.
"It is a proud moment. Today marks the start of the final one million hours of work devoted to meticulously applying the finishing touches to ensure our new 'débutante' is ready and perfectly 'dressed up' when she emerges for her debut 'Grand Ball' on May 26, 2012, in Marseille, France," said Emilio La Scala, General Manager of MSC Cruises Technical Department.
Named in honour of Sophia Loren, modern day Italian film goddess and patron of the MSC Cruises fleet, MSC Divina will be appropriately themed as a divine goddess.
This was hinted at for the first time Saturday with the announcement that the ship's 18 decks (13 of them for passengers) will be named after the Gods of Ancient Greece ; among them Urano, Afrodite, Aurora, Giunone, Artemide, Zeus, Mercurio, Cupido, Iride, Minerva, Apollo, Saturno, Elios.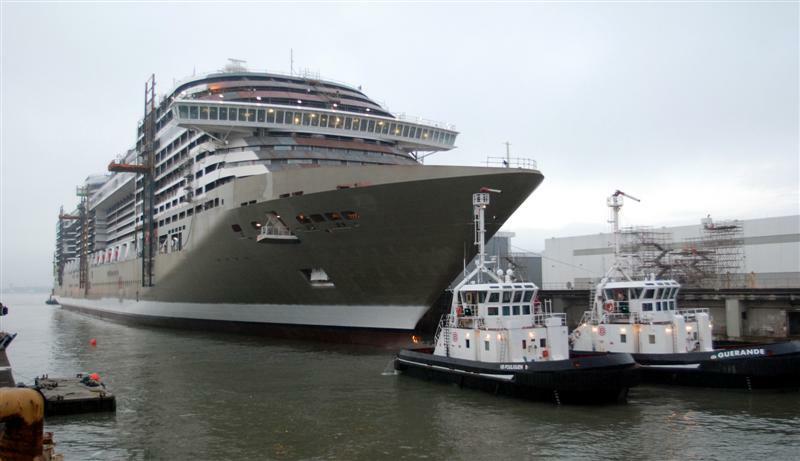 There will be something decidedly transcendental about one of the most novel additions to the ship: the aft Garden Pool, purpose designed and decorated as a heavenly up scale area for quiet retreat, philosophizing or simply gazing into the infinity of a sunset.
Construction of MSC Divina started over a year ago and a total complement of 74 mega-blocks, each consisting of a set of large pre-fabricated hull components, were used for assembling the ship. Work on the keel is nearly completed. Already 50 % of the fitting out has been done which includes completion of the electrical networking, plumbing and public areas. Work has also already started on 400 of the 1751 cabins (one hundred more than her sister ships MSC Fantasia and MSC Splendida).
As the most advanced of the trio of Fantasia Class cruise ships, cutting edge technical changes on MSC Divina include more powerful propulsion motors, rated at 21.8 MW each (compared to 20.2 MW on the MSC Splendida), brand new alternators and state-of-the-art HVAC chillers. The ship will also feature a new reverse osmosis system for fresh water production that requires 40 percent less power and therefore assuring less environmental impact.