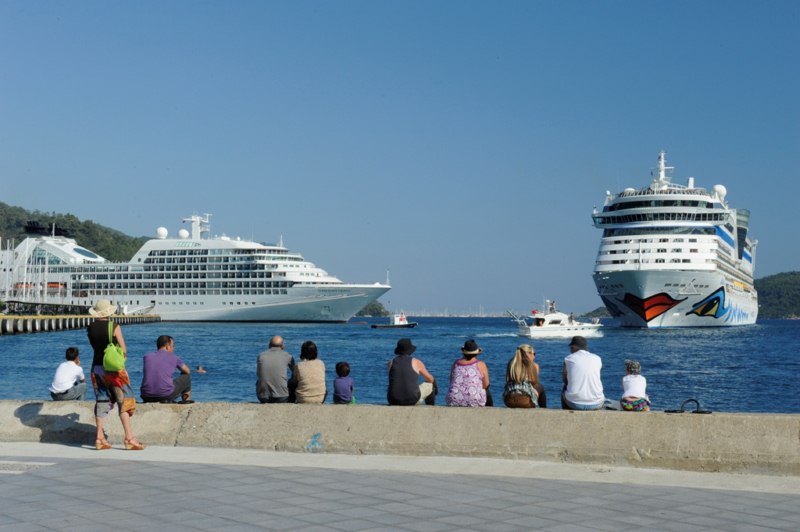 Following her naming ceremony, the Seabourn Quest has made her inaugural call at Marmaris on her maiden voyage which started in Barcelona last week
Seabourn Quest arrived with her 410 passengers and 344 crew members o board at Marmaris Cruise Port in the early hours of Thursday morning, June 30.
For the occasion of Seabourn Quest's maiden voyage and inaugural call in Marmaris, a welcoming ceremony was arranged by Marmaris Cruise Port. The new luxurious ship was greeted in traditional Turkish style and hospitality with folk dancers and red roses.
The music and dancing put smiles on passengers' faces and they showed their excitement by taking lots of photos. Evil eye beads and gifts with views of Marmaris such as, bags, postcards, magnets and bookmarks were given to passengers as memorabilia. Passengers also got the chance to taste delicious Turkish delight. After the ceremony, as some passengers went on excursions, others preferred to visit the town of Marmaris and take advantage of the sunny day at the beach. Passengers had enough time to enjoy the beauties of Marmaris before the ship's departure at 18:00 on her way to Kusadasi.
For her maiden voyage, a commemorative hand crafted wooden plaque made of a traditional ceramic tile with Ottoman Gallion motives was presented to the master of Seabourn Quest by Marmaris Cruise Port management.