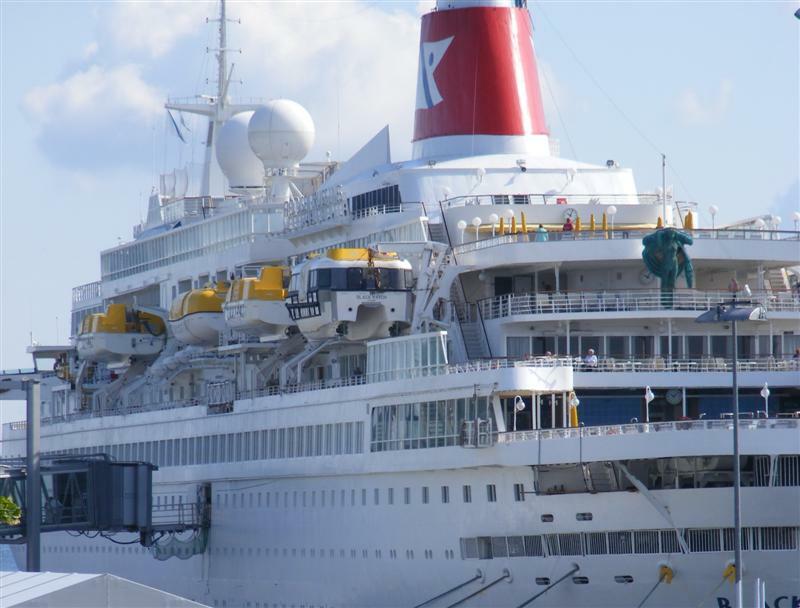 This year's Kieler Woche Festival (June 18th -26th) is again proving a big draw for both big and small cruise ships in Kiel.
A total of 11 ships are expected to berth 12 times at the Ostseekai or Norwegenkai terminals.
Fred. Olsen's Black Watch arrived in Kiel this morning, June 21, via the Kiel-Canal from Dover. At an onboard reception, Cathy Kietzer, President of the Schleswig-Holstein state capital, welcomed Captain Terje Ulset and his crew and presented them with the traditional first-call commemorative plaque.
Commented Cathy Kietzer: "The Kieler Woche is one of the world's best-known, top maritime events. It is a great pleasure to welcome so many national and international guests to our port and it is fitting that we are able to greet a new ship as well."
Cruise ships will also complement the maritime picture in Kiel's Stadthafen over the next few days, along with tall ships and the ferries of Color Line and Stena Line.
On the last day of the Kieler Woche, on Sunday, visitors will be able to admire two particularly large cruise ships, Costa Pacifica and MSC Orchestra, at the Ostseekai Terminal as well as Deutschland at the Norwegenkai Terminal.
The TV-series 'Dream Boat' (on the Deutschland) will remain in the port to witness the spectacular Kieler Woche closing fireworks display before leaving her front-row seat shortly before midnight. Because of the unique city-centre location of the terminal, passengers get a special view of events both on shore and on the water.
In the cruise sector, Kiel is both a turnaround port and a gateway to tourist destinations in north Germany. Kiel offers a host of daily excursion possibilities to the region's tourist highlights.
The program ranges from city tours of Kiel or Lübeck to cultural, historical or scenic tours and to visits to the region's metropolis, Hamburg.
Dr Dirk Claus, Managing Director of the Port of Kiel said: "The north of Germany has a lot of sights to offer international cruise shipping passengers. We want to work with our partners to make these tourist destinations even better-known. The Kieler Woche, with its many attractions for visitors, is a good advertisement for this", he added.