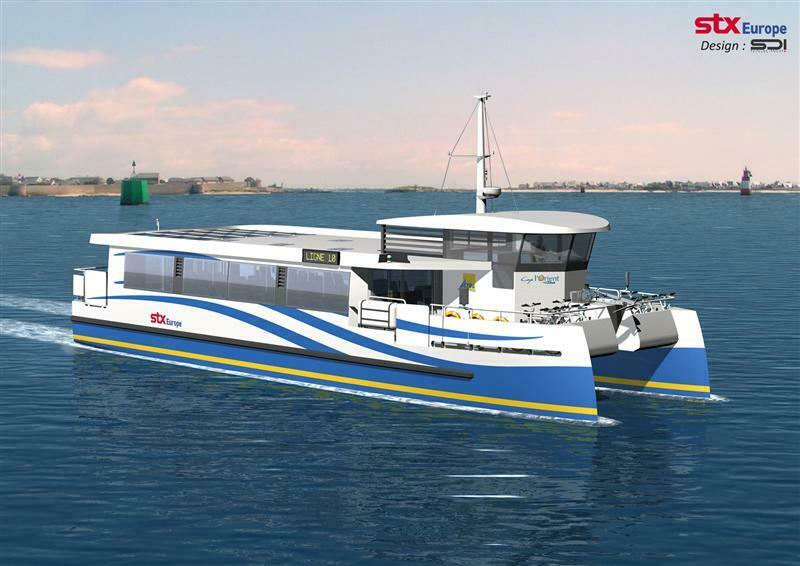 A new electric passenger vessel ordered by Lorient City Council (Brittany, France) are said to represent a technological breakthrough for the design and construction of "zero emission" vessels.
The 22-meter vessels are designed for passenger transportation in the inter-coastal waterways around Lorient, covering a distance of some two and a half nautical miles.
According to Stirling Design International (SDI), the design represents a significant improvement compared to existing electric vessels operated on short distances in harbor areas or inland waterways. Based on supercapacitor technology developed and patented by STX Europe, the naval architecture and ship design have been developed by SDI based in Nantes. The first vessel will be delivered to Cap Lorient in June 2012.
Energy storage based on supercapacitors lead to the re-design of the ship architecture, according to SDI, from the watertight compartments to light-ship weight distribution, electric thrusters and the hull form. The 22.1 meter long catamaran, with a beam of 7.2 meters and a draft of 1.5 meters, will be fitted with two azimuthing thrusters, and will sail at 10 knots. It will be able to accommodate 113 passengers, including three disabled passengers, and 10 bikes.
This new generation of vessel will allow a significant reduction in emissions with zero direct emissions in the electric mode. The sound and vibration level in the passenger lounge and for the environment will be significantly reduced.
SDI said in a statement that "special care has been brought to detail design, allowing reduction of thermal loads on the glass of the passenger lounge and wheelhouse. Use of natural ventilation has been used though with numerous hatches on the roof. Solar power from photovoltaic panels also contributes, as well to improving the electrical autonomy of the vessel during operation."