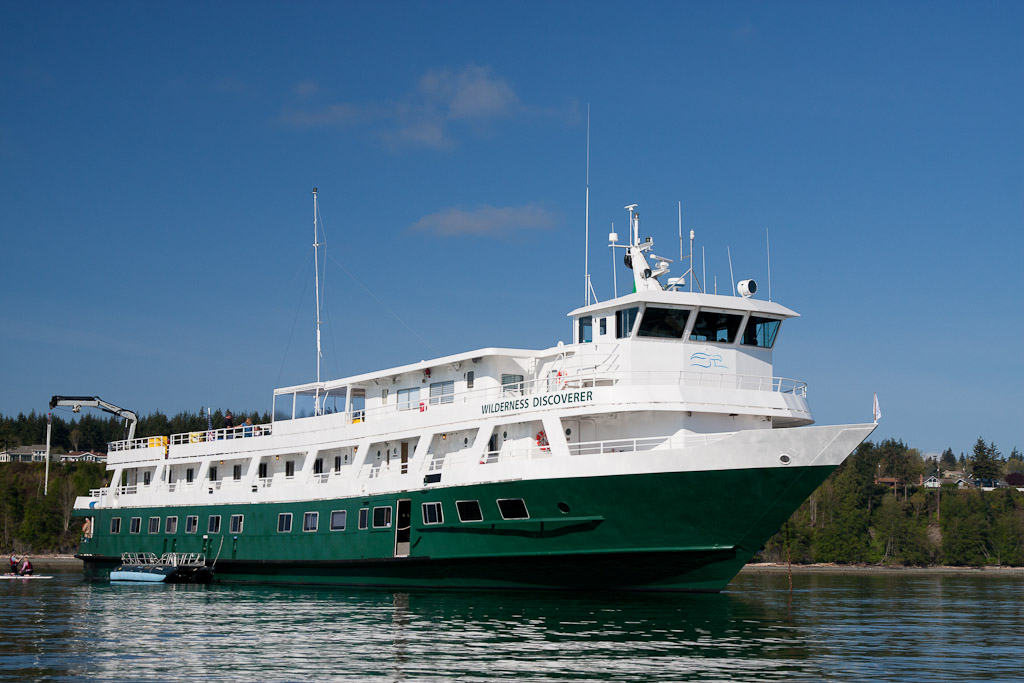 With the crack of a champagne bottle against each hull, InnerSea Discoveries officially inaugurated its fleet of two expedition vessels soon to set sail on active adventure "un-cruises" in Southeast Alaska.
Friends, family, employees and business partners gathered dockside outside the company's Seattle office on Friday, April 29 to celebrate the successful refurbishment and launch of the new brand's 68-guest m/v Wilderness Discoverer and 60-guest m/v Wilderness Adventurer.
Making the celebration even sweeter, the company reports its first season sailing weeklong and two-week cruises in Alaska is sold out with only a few cabins left on its two 15-day cruises sailing between Seattle and Juneau.
"The response we've had for our adventure cruises in Alaska has been outstanding," said Tim Jacox, executive vice president of sales and marketing. "We have successfully tapped into a market of travelers looking for fun, active vacations in nature. We're already booking 2012."
After beating a native Tlingit drum and leading the crowd in a chant of "It's a beautiful day in the neighborhood," Principal and CEO Dan Blanchard led the heartfelt ceremony thanking employees and business partners for their part in making the dream of a new small ship adventure cruise line become a reality. The company also owns sister brand American Safari Cruises which has been in business for 13 years.
"This is a proud, happy day," said Blanchard. "The successful refurbishment and launch of these two expedition ships is a culmination of hard work by many people. The ships are ready to sail to Alaska, and we are more than excited to welcome our guests on board for adventures in the wilderness."
Blanchard asked dedicated employee Naomi Sture to help with the christening ceremony, a maritime tradition to ensure good luck and safe voyages. Sture has been a sales consultant with InnerSea Discoveries and sister brand American Safari Cruises since 2006 and has been an integral part of the company's growth and success. Ral West, a long-time friend of Jacox and Blanchard, also helped christen the ships.
The two ships, originally constructed to maximize up-close, adventurous itineraries, have undergone complete refurbishment inside and out. All guest cabins are above deck with large, view windows, eco-friendly memory foam mattresses and bath amenities, flatscreen televisions with DVD players and iPod docking stations. The main lounge has been designed to feel like a cross between a National Park lodge and a quaint neighborhood pub with a bar top made from salvaged Alaskan yellow cedar. Each ship also has a sauna, exercise equipment, complimentary on-deck yoga classes, a large resource library, well-stocked DVD library and board games and a hot tub with a view.
InnerSea Discoveries' un-cruise adventures sail between Juneau and Ketchikan (and reverse) from May through September on a Western Coves and Eastern Coves itinerary. When combined, it becomes the two-week Ultimate Adventure. Setting it apart from other cruise line itineraries, InnerSea Discoveries' ships spend less time in port and instead spend time tucking into hidden bays and coves for adventure activities in Alaska's wilderness. Guided hiking and kayaking trips will be daily activities.