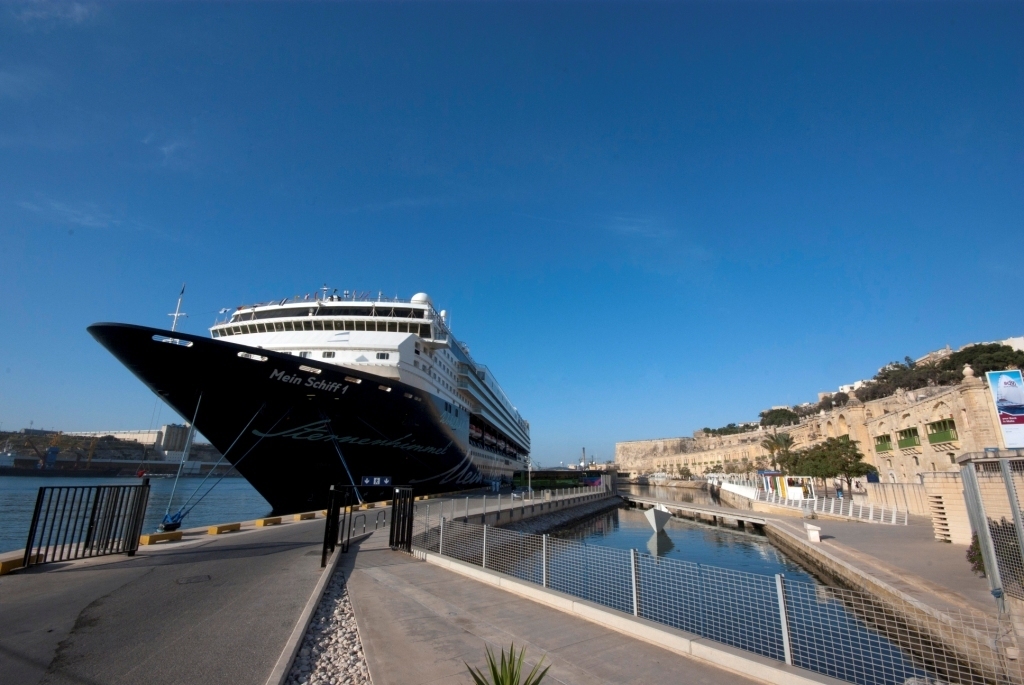 Malta's historic port of Valletta has welcomed Mein Schiff 1 on its first homeporting operation. Valletta Cruise Port is the ship's Mediterranean port of departure for the 2011 season.
From May to November 2011, the seven and fourteen day cruises will begin and finish in Valletta. On its butterfly cruise schedule, the Mein Schiff will be calling both the West and East Mediterranean with a variety of ports on its itineraries including Piraeus and Mykonos in Greece, Kusadasi (Turkey), Catania and Civitavecchia in Italy, as well as Monaco and Ajaccio.
During last Sunday's operation, more than 3,000 passengers were handled and transferred in one day, including 1,500 passengers who were checked in at Valletta Cruise Port's terminal before embarking on their cruise.
The excellent co-operation at the pier between TUI Cruises, Valletta Cruise Port and SMS International Shore Operations ensured a smooth turnaround operation.
In the evening, guests onboard were treated to an Inguardia re-enactment, showing events happening during the Knights of St John period, courtesy of the Malta Tourism Authority. A fifteen-piece village band cheered the liner and its guests with a number of lively compositions. As Mein Schiff 1 was leaving the Valletta Cruise Port quays, the vessel was hailed with a full gun salute by uniformed members of Fondazzjoni Wirt Artna, a voluntary organisation active in the field of heritage preservation.