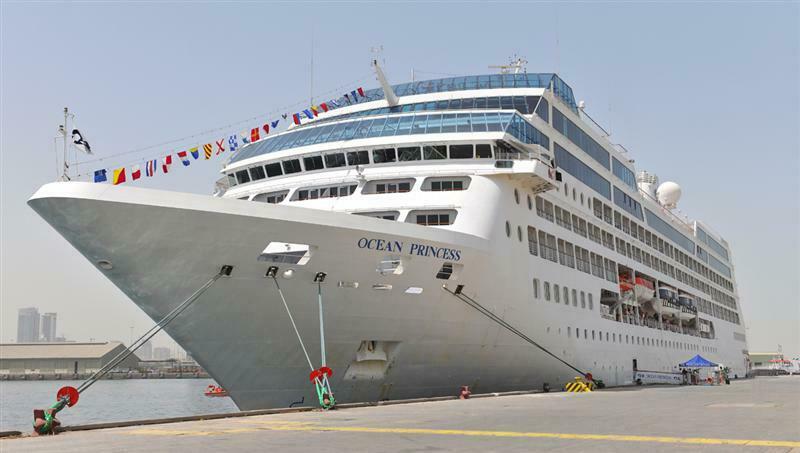 Abu Dhabi's expanding cruise industry credentials have received an out-of-season boost with today's maiden arrival of the 755 passenger capacity Ocean Princess at Mina Zayed Port – the first time a vessel registered to the Los Angeles-based Princess Cruises fleet has docked in the emirate.
The latest indicator of the steady upturn in Abu Dhabi's cruise industry potential, the upmarket Ocean Princess, which is currently on a round-the-world voyage, is the first of two Princess Cruises' arrivals scheduled to dock in Abu Dhabi in the coming weeks.
"This arrival is the result of three years of negotiations with senior Princess Cruises management, though the move to include Abu Dhabi on the company's round-the-world itineraries gained compelling momentum in the last 12 months as the emirate's international stop-over reputation spread," said George Varghese, General Manager – Commercial, Rais Hassan Saadi Group, a port agent at the forefront of regional cruise industry growth.
With Varghese insisting the smaller, limited capacity luxury liner is "testing the waters" for Princess Cruises, he revealed the larger, 2,272-capacity Dawn Princess will arrive in Abu Dhabi on June 16 as part of its own globe-trotting voyage.
"The arrivals of Ocean Princess and Dawn Princess illustrate increasing international operator demand for Abu Dhabi. The emirate's regular, winter season itineraries yield the majority of cruise traffic, but year-round stop-overs for round-the-world vessels could see arrivals extended to the traditional, out-of-season summer months," added Varghese.
Princess Cruises is wholly-owned by Carnival Cruises, the world's largest cruise line operator. Carnival, which operates more than 100 vessels under various brands – including Abu Dhabi stop-over regulars, AIDA Cruises and Costa Cruises – currently contributes 75 per cent of all Abu Dhabi's cruise arrivals.
Master Stefano Ravera, Captain, Ocean Princes said he was "honoured" to be at the helm of the vessel as she made her historic maiden call in Abu Dhabi.
"As captain I can say I and the crew felt at home here as soon as we saw the fabulous city skyline. The passengers have had a fantastic experience in Abu Dhabi with them commenting that they felt safe and that everything is so clean," he said.
Abu Dhabi's cruise ambitions received a major boost last October when MSC Cruises, the world's fastest growing cruise operator, decided to homeport the luxury MSC Lirica in the UAE capital from October 2011, where it will embark on 19 regional itineraries.
MSC Lirica's regional sailings translate to a potential 41,000 cruise arrivals; a number that Abu Dhabi Tourism Authority (ADTA) – which signed the landmark co-operation agreement with MSC – has estimated will generate in excess of AED 135 million (US $37 million) per season in nett economic impact to, and via, the emirate's tourism sector.
Abu Dhabi's ambitions have now received a further boost with the news that Costa Cruises' Costa Favalosia – at 3,800-capacity the biggest cruise liner ever to be built – will stop in the emirate in November following its July 2 launch in Trieste, Italy. AIDA Cruises, based in Rostock, Germany, will also debut its own new vessel, the AIDAblu, in Abu Dhabi this winter.
"Increased cruise arrivals are a core enabler in ADTA's strategy to attract 2.3 million hotel guests to the emirate by the end of 2012," explained Lawrence Franklin, Strategy & Policy Director, ADTA. "Over the past two years, cruise arrivals to the emirate have nearly doubled and in the forthcoming 2011/12 season, we are expecting 68 ships to deliver upwards of 145,000 passengers and 50,000 crew. The high growth strategy target of welcoming over 100 ships per season and around 250,000 cruise arrivals to the emirate by 2014/2015 is on-track."
Martijn Van De Linde, CEO, Abu Dhabi Terminals, insisted Abu Dhabi's cruise industry growth story was built on the foundations of hard-work and co-operation. "Abu Dhabi Terminals is a strong supporter of the cruise industry and ADTA's initiatives to introduce passengers to the Arabian heritage and culture", said Van De Linde. "We've worked closely with cruise lines and agents over the years to instill confidence and ignite interest in the region as a tourist destination; the success of which is clearly visible through the record number of 139,597 passengers we handled last season."
An interim cruise terminal at Mina Zayed Port, suitable for home port and port-of-call vessels and capable of handling all types of embarkation and disembarkation, will cater for Abu Dhabi's 2011/12 winter season itineraries.