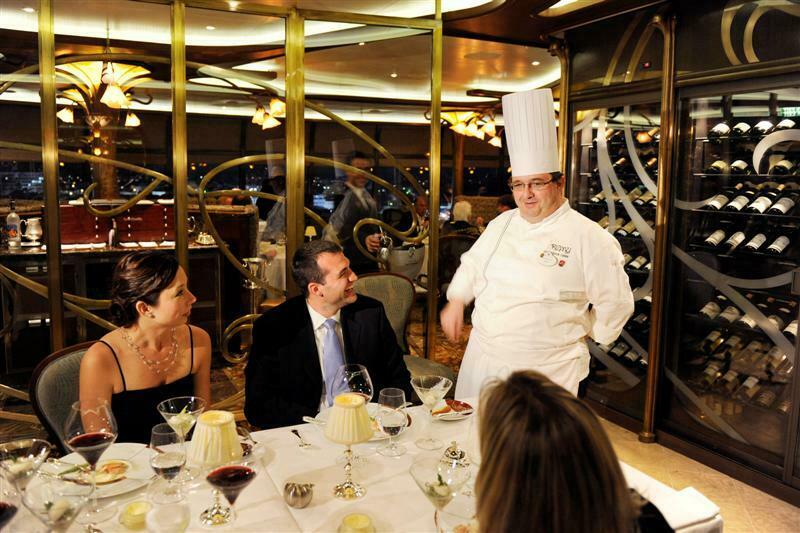 The growing popularity of specialty restaurants has generated some criticism that cruise lines may be paying less attention to the regular dining operation in order to encourage passengers to patronize the for-fee establishments.
That charge, however, is vehemently denied by cruise lines. "Our main dining rooms are the heart of our dining operation, and we would never do anything to undermine that," said Scott Steenrod, associate vice president of food and beverage operations for Celebrity Cruises.
Cruise lines also point out that specialty restaurants offer dining experiences that cannot be duplicated in the large dining rooms. Guests dining in a steakhouse, for example, have a much wider selection of meats than is available in the dining room.
At Disney Cruise Line, Ozer Balli, vice president of hotel operations, described the line's new specialty restaurant Remy as Disney's premier dining option, reflecting not just the price of $75 (not including wine pairing), but also the attention to detail and quality of ingredients.
"Our goal is to create a dining experience similar to one enjoyed in a Michelin-starred restaurant. That involves offering an elegant setting and sophisticated service, in addition to fine food and wine," he added.
Regent Seven Seas, which does not charge for its two specialty restaurants, allows passengers to make advance reservations once for each of them.
Crystal does not charge for its Asian and Italian restaurants, but there is a charge of $180 for its popular food and wine dinners in the Vintage Room.
Added Celebrity's Steenrod: "The specialty restaurants we offer are in response to demand by the guests, who are more knowledgeable about food and wine and want new dining experiences. The passengers are the judges of whether the price is reasonable and represents good value."
Excerpt from Cruise Industry News Quarterly Magazine: Spring 2011