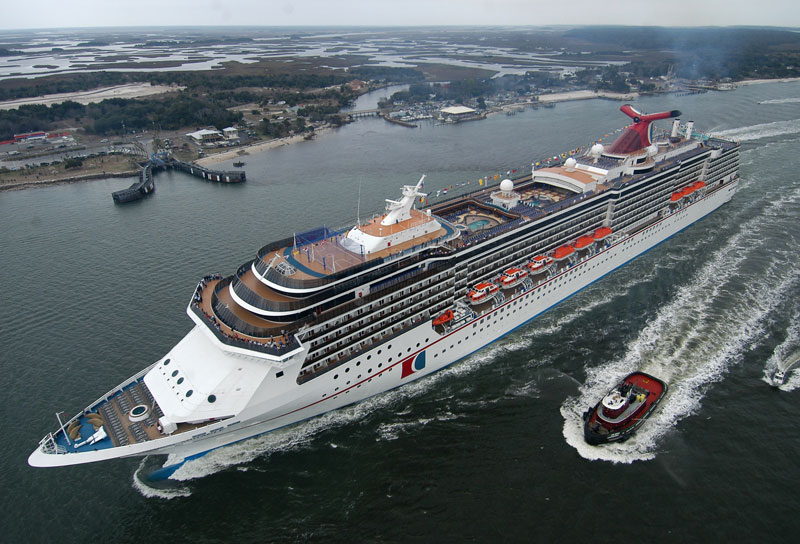 Carnival Cruise Lines' ships are on the "move" resulting from the introduction of new ships, but also to offer new products in certain markets and to adjust to new market realities.
"We look at three sets of numbers," said Terry Thornton, senior vice president, market planning, "ticket revenue opportunity, onboard revenue opportunity and fuel costs. The rest of the costs are mostly fixed."
Thus, the Paradise will move from Long Beach to Tampa and the Inspiration from Tampa to Long Beach. The Paradise has podded propulsion and is more fuel efficient for the high-speed Tampa itineraries. The Inspiration will sail slow-speed three- and four-day cruises.
The Elation, meanwhile, which was on the West Coast, was a "perfect storm" type of scenario, according to Thornton, with relatively low ticket and onboard revenue, but high fuel costs. She was instead moved to four-, five- and seven-day cruises out of Mobile, replacing the Fantasy, which moved to Charleston.
Carnival is also gearing up for shorepower, which will be required in California, starting in 2014. Work is underway in Long Beach, where the Splendor will be able to hook up. Both the Splendor and the Inspiration will be equipped for shorepower.
Next year, Carnival will also be venturing into year-round overseas operations for the first time in the brand's history. The Spirit will move from Mexican Riviera cruises to Australia and sail from Sydney.
Meanwhile, the most meaningful news this year may be the Carnival Magic's full summer season in Europe, according to Thornton. "We are glad to be back and we have really had a good response (from the market). It is good for us to have a presence in Europe."
The Magic will sail three seven-day cruises and a sequence of nine- and 12-day cruises from Barcelona from May through mid-October.
While no formal announcements had been made at press time, Thornton said it was likely that the new Breeze will sail in the Mediterranean next year. He expects that Carnival will continue to have a presence in Europe going forward.
Not only is the price of fuel impacting itinerary planning, but also the quality of the fuel. "The ECA is a big deal and may impact Carnival more than any other cruise brand since most of its ships stay in North America year-round," Thornton said. By 2015, he estimated fuel costs will be up 30 to 40 percent for the different grades only, not counting price increases.
"We are looking at ways to reduce fuel costs, everything from slowing ships down to changing ports. We have even experimented with taking ports out. But we cannot offset the full impact and will take a hit.
"What I really need is Cuba – that will drive high demand, which means higher ticket prices, and Cuba is close, meaning lower fuel costs."
Meanwhile, Carnival is experimenting in the Caribbean. The newest offering may be the Miracle sailing eight-day cruises to Grand Turk, La Romana, Curacao and Aruba. Despite being a fuel-intensive itinerary, it commands higher ticket prices, so in the end, the cruise line comes out ahead.
Excerpt from Cruise Industry News Quarterly Magazine: Spring 2011