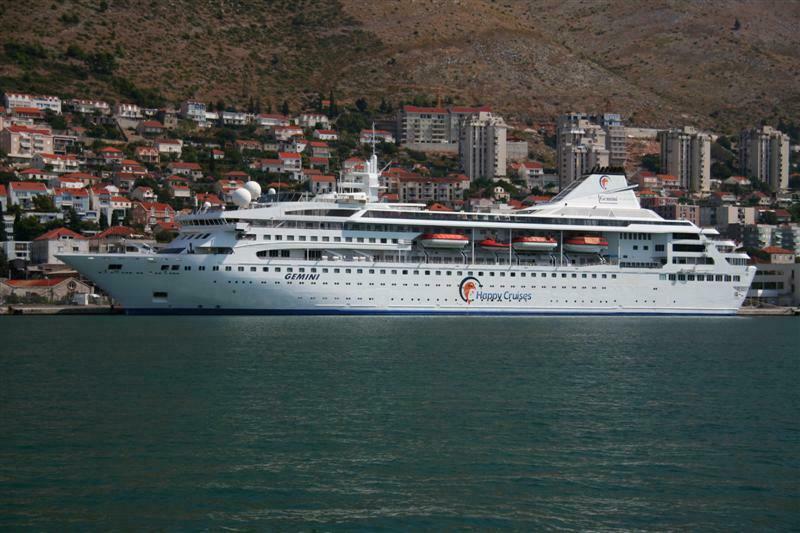 Happy Cruises is chartering a third ship. Cruise Industry News has learned that In May, the Happy Dolphin will join the Gemini and the Ocean Pearl.
The Happy Dolphin will homeport out of Istanbul, Venice and Athens, running week-long itineraries, with an announced deployment through October.
The ship is the ex-Delphin Voyager (ex- ORIENT VENUS) and was tied up in bankruptcy court last year with operator Hansa Kreuzfahrten. In December she was renamed Hainen Empress and sailed for China, where there rumors of a new start-up cruise line that ended up being a charter.
A statement from the company said it was targeting carrying 100,000 passengers per year.
Deployment Changes
The Gemini, which originally launched service as the Crown Jewel, started the year doing week-long cruises from Havana and Cozumel. In May she was scheduled to reposition to the Mediterranean but Happy Cruises will now send her to the Baltic, sailing week-long cruises out of Copenhagen and Tallin on traditional Baltic routes. The Gemini will also sail six week-long Norwegian fjord itineraries out of Copenhagen.
At press time, the Ocean Pearl was deployed in the Mediterranean with a season starting in late January and going through November, embarking passengers in Valencia on Sundays and Barcelona on Mondays. The itinerary includes stops in Villefranche, Livorno, Civitavecchia and Naples.