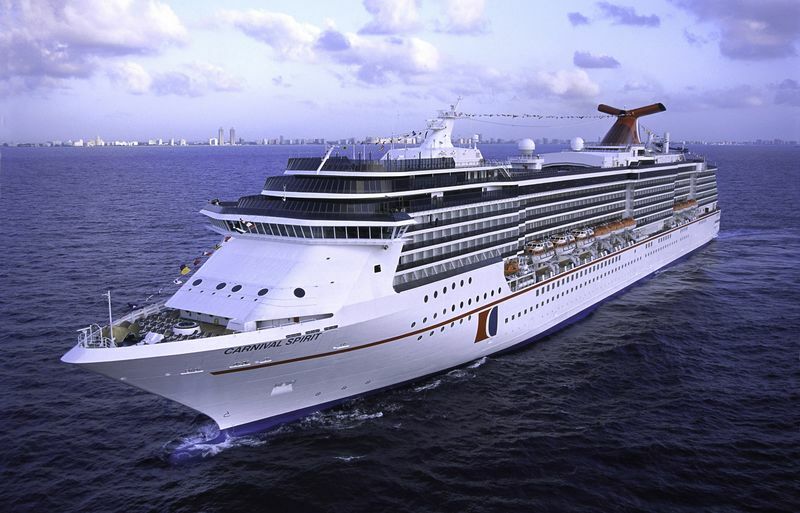 In a major boost for the Australian tourism industry, Carnival Cruise Lines has announced that it will base one of its cruise ships fulltime in Australia.
The 88,500 ton Carnival Spirit will be the largest cruise ship ever to sail year round from Australia when she arrives in Sydney in October 2012 to operate a schedule of 8-12 day voyages to the Pacific Islands.
Currently, the Spirit is deployed on the West Coast through Spring 2012, sailing from San Diego, Los Angeles, Honolulu, Seattle, Ensenada and Vancouver on a variety of Hawaii, West Coast, Mexican Riviera and Alaska itineraries. Carnival has not announced deployment from April 2012 – October 2012 for the Spirit.
The move – announced globally in Sydney today – represents the first time Carnival Cruise Lines has ever ventured into Australian waters and reflects growing confidence in cruising in the region.
Carnival Corporation, which owns Carnival Cruise Lines, also owns P&O Australia, which has four ships in the region. Princess Cruises, also under Carnival Corp., has two ships there.
For more coverage on this major deployment move, see the Spring 2011 edition of the Cruise Industry News Quarterly Magazine.
Carrying 2,667 passengers, Carnival Spirit will be the first ship to be based in Sydney year round that is too tall to sail under the Sydney Harbour Bridge. Rising nearly 53 metres above the waterline, Carnival Spirit is more than three metres taller than the specified clearance height for ships passing under the Bridge. Because of its height, Carnival Spirit will be based at the only cruise facility east of the Harbour Bridge, Circular Quay's Overseas Passenger Terminal.
As the largest cruise ship sailing from Australia year round, Carnival Spirit offers a wide range of onboard facilities and features, with approximately two-thirds of its cabins featuring private balconies – the most of any Australian-based ship.
Ann Sherry, CEO of Carnival Australia, which represents Carnival Cruise Lines' Australian deployment locally, said the cruise line's move into Australia was testament to both the recent growth and the ongoing potential of the local cruise industry.
"Cruising is booming in this country because it offers passengers a great value holiday that includes accommodation, top quality food and loads of entertainment that appeal to all age groups," Ms Sherry said.
Gerry Cahill, Carnival Cruise Lines' President and CEO, said the cruise line was looking forward to introducing its unique style of cruising to the Australian market.
"Carnival has become the most popular cruise choice among North Americans by offering an experience that is casual, friendly and fun with a wide variety of activities for guests of all ages, including a huge array of options on our expansive outdoor decks," Mr Cahill said.
Carnival Spirit will offer a year round schedule of 8 to 12-day cruises to the Pacific Islands and a selection of 13-day sailings to New Zealand beginning October 25, 2012, with the program expected to go on sale by the middle of this year. The shipboard experience will be tailored to the Australian market with onboard spending in Australian dollars and no tipping required.
Ms Sherry said while the primary market would be Australians and New Zealanders, Carnival's strong brand recognition in the United States would play a role in attracting more US tourists to Australia.
Carnival Spirit's deployment meant there would be seven Carnival Corporation & plc ships cruising fulltime from Australia by the end of 2012, ensuring the industry was well on its way to reaching its target of one million passengers by 2020, if not sooner, she said. Other Carnival Corporation & plc brands operating fulltime in Australia include P&O Cruises and Princess Cruises.
"It is amazing growth considering there were just two ships based in Australia year round in 2007," Ms Sherry said.
"This really underscores Sydney's position on the world cruise map and our resolve to keep growing the market with multiple brands that appeal to customers."