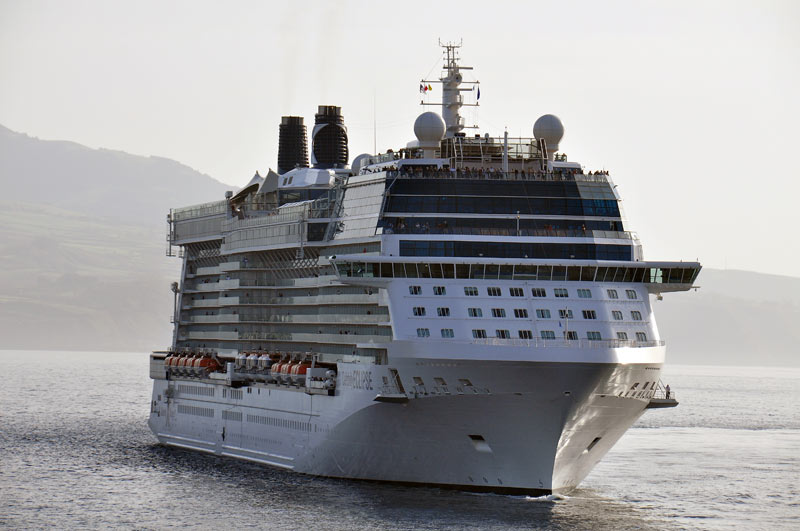 There are only a few differences between Celebrity's latest Solstice-class ship, the Eclipse, and her older sisters, the Solstice and the Equinox.
The new alternative restaurant Qsine replaces Silk Harvest (see CIN Quarterly Magazine – Summer 2010) with iPad menus and "interactive" food.
A grand staircase in the center of the ship is the biggest engineering change obvious to passengers, along with a slightly adjusted color template.
The third sister, with two more to go, is just as stunning inside and out as the other ships. Big public spaces, a very "hip" design feel and masses of options for cruise guests to spend their time highlight the rest of the 122,000-ton 2,852-passenger vessel.
Impressions
Cruise passenger "wow" factors include the hot glass show, the half-acre lawn club and 10 dining options, but there is much more than that.
Celebrity's onboard crew delivers service worthy of much higher-priced vessels.
The ship is cleverly executed in a way that makes it feel like there aren't another 3,000 passengers onboard.
At night, there is plenty to do in the nightclub, Quasar, which spins the latest music. The venue features slightly different furniture than the Solstice or Equinox this time around.
Just a few feet away from Quasar, Celebrity staff puts on a show at the Martini Ice Bar, Crush, where guests can write messages and draw pictures into a layer of "frost" on top of a stainless steel counter-top.
In between those two venues is the casino, and all the way forward is the show lounge, with (usually) two seating options.
A large galleria offers a variety of shopping options, and Celebrity is now featuring the iLounge, where guests can learn how to use Apple products and purchase them.
Celebrity states that the Solstice-class staterooms are approximately 15 percent larger than the rest of its fleet. Stateroom bathrooms also deserve a mention, while limited counter space may be the first impression, a quick look around shows an enormous amount of storage space.
The staterooms also feature the same trendy Samsung flat screens as the Equinox and Solstice with the digital entertainment system, but now have a quick loading screen highlighting Celebrity's new partnership with Apple.
Excerpt from Cruise Industry News Quarterly Magazine: Winter 2010-2011