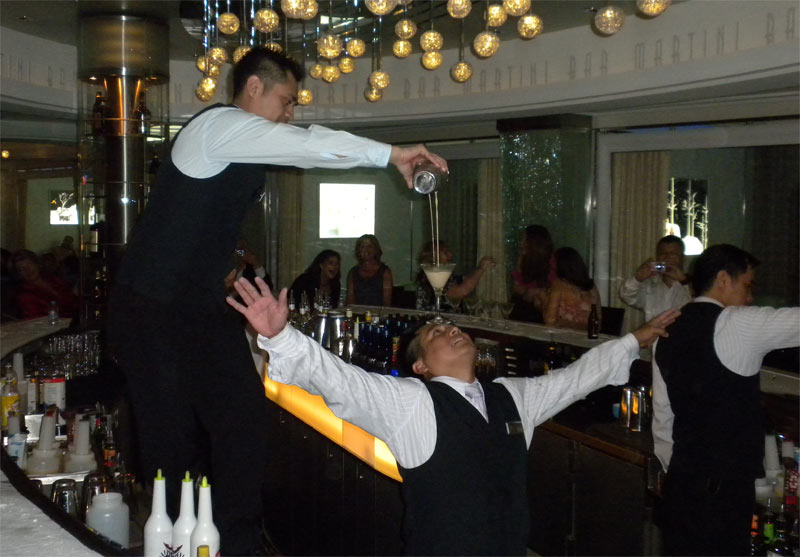 A continuous flow of new hardware into the cruise market has led to innovation in the onboard product with the lines looking to differentiate themselves. At the same time, they face a variety of challenges and have to keep both at-sea and shoreside members of the team motivated.
Setting Yourself Apart
"We want to be more relevant to a stunning land based resort. We want to look at what people want in a vacation," said Lisa Lutoff-Perlo, senior vice president of hotel operations at Celebrity Cruises.
"We are not belly-flop pool games," she said, describing Celebrity's premium product, saying Celebrity was "a sophisticated way to have fun."
"We've gotten letters from people saying they've never eaten at better restaurants than those we have onboard, comparing them to five-star restaurants in New York. That doesn't happen by accident."
At Norwegian Cruise Line, Michael Flesch, senior vice president of hotel operations, said that he was "looking at Freestyle as the ability for our guests to chose their own experience, and that is where we are going with that concept. Being on the Epic you see guests bar- or club-hopping from one venue to another well into the night, and that is furthering the Freestyle concept because something is always going on."
"It is really about Freestyle. Everyone has great ships now and the race to build the biggest has come to an end. Guests are looking for the experience," he continued.
"We pay attention to what the guests are saying. We pay attention to the competition, but we're not focused on one-upmanship, the Norwegian target is not necessarily the Carnival or Royal target."
Lisa Bauer, senior vice president of hotel operations for Royal Caribbean International commented: "Innovation is in our DNA. We have amazing hardware and guest experiences and we continue to innovate and introduce new concepts, whether it is the first ever Starbucks at Sea, the new Britto Store, or our DreamWorks partnership to name a few. We are always evolving our offering to keep it fresh for our guests and also have the distinction of creating many industry 'firsts'. We just had a meeting where we were asked to find a theme song that represents our hotel operations team, and we selected Bon Jovi's 'We Weren't Born to Follow.'"
She continued: "It is important to understand what is happening in Las Vegas, Macau, or in the hotel industry in general. Our competition is different in every market around the world, so we see it more about what is important to our guests, than what a certain brand may be doing, because all cruise lines have different sourcing, so what may work in one market may not work in another."
Seabourn's Christopher Prelog, director of hotel operations added that "our competition is ourselves, and we strive to meet and raise our own bar on every cruise. We compete against ourselves to surprise and delight our guests. That's what matters."
At MSC Cruises, Tim Skinner, corporate hotel manager, told Cruise Industry News that the line was doing a "complete top to bottom audit, looking at everything regarding the quality of the product."
"The product itself needs to be delivered in a way that makes it more than is expected by the consumer," he said.
"MSC is a different product because of its founding. Being a family owned company and organization, things happen quickly. It doesn't take long to make changes, if it is perceived to be a good idea, because we have the ear of the owner and CEO immediately. I couldn't compare the way we do things with the way a traditional company does with a board of directors and decision making process taking a long time. We jump in and get things done."
Nick Burger, vice president of marine hotel operations at Windstar shared his view.
"One of our distinctions is that we offer highly personalized service and attention," Burger stated. "We anticipate guest needs and act accordingly as well as resolving any guest issues quickly onboard."
Not Good Enough
Added Lutoff-Perlo: "It's about the people that have the amazing ideas. My only key to making it all happen is empowering and enabling them to push the envelope and ensure that we don't stay stagnant and that we all realize that the status quo is not good enough. Good enough is not enough. I see all these restaurants now with their menus on iPads, it doesn't matter what you do because someone is on your tail."
Skinner, at MSC, runs the shoreside hotel department with a team of six people, including himself.
"We have six passionate people. Dedication is important too, because there are no islands at MSC, if we need assistance from another department, we get it immediately," he explained.
"I think that there is this compounding feeling that if it works well it's because of all of us. The keys are passion, long-term planning and continuous improvement and tremendous interaction between the departments, particularly between the crew department and the hotel department. We spend a lot of time in quality selection of the crew. You can't have a ship with crew that doesn't work well together."
Excerpt from Cruise Industry News Quarterly Magazine: Winter 2010-2011