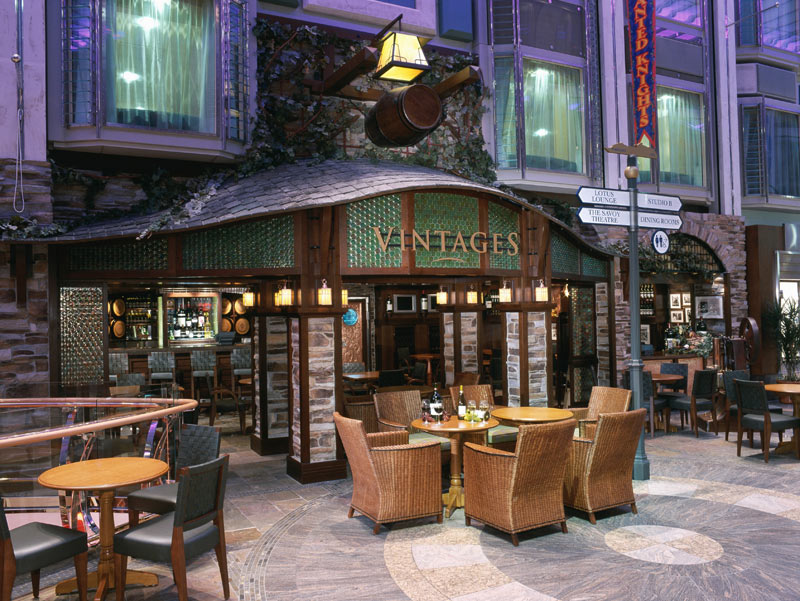 Slainte Wines, a major supplier of wines to the cruise industry, has been on a growth course and today represents what Christopher O'Connor, president, called a huge portfolio – more than 100 brands. "We are focused on being good to everyone we represent," he said. "We are not adding brands just to add brands."
Last year, Slainte Wines was named sole distributor to the cruise industry for Constellation Brands.
The company also provides training for cruise staff combined with visits to wineries, whether in Napa Valley or Chile. O'Connor said that his company brings Princess Cruises' sommeliers to Napa Valley twice a year, 18 people at a time, for five days. Not only are they receiving exposure to wines and wineries along with training, he said, but when they return to the ships their enthusiasm motivates other staff.
Ice Bar
Behind the ice bar on the Norwegian Epic is a partnership between the cruise line and Slainte Wines, representing Svedka vodka and Inniskillin ice wine. "We have a three-year agreement so far," said O'Connor. "The ice bar has been successful beyond our expectations," he added. "Originally the bar was open from 5 to 11 p.m., but because of demand it is now open until 2 a.m."
Guests pay $20 for a visit to the bar, which can hold 25 people. The cover charge includes two signature cocktails made with Inniskillin and Svedka.
There are altogether six specialty drinks, plus two non-alcoholic drinks.
All the drinks are served in specially-created glasses made entirely of ice.
The bar was inspired by ice bars and ice hotels in Scandinavia, and guests are given hooded coats and gloves to keep warm, as the temperature does not rise above 17 degrees Fahrenheit.
Svedka is a highly-rated, trendy Swedish vodka, while Inniskillin ice wine is produced from grapes that have frozen while still on the wine. The Canadian winery produces its ice wine from grapes grown in the Niagara, Ontario region. Described by the company as intense, sweet and sumptuous, the ice wine mixes well with vodka. The Inniskillin ice wine is also said to be the leading duty-free selling wine in the world.
Norwegian Cruise Line promotes the ice bar on the ship and features Inniskillin and Svedka cocktails in the bars on the Epic and also throughout its fleet.
Vintages
Partnering with Royal Caribbean International, Slainte Wines is working with the cruise line to redo its Vintages wine bars, because of more international passenger sourcing, explained O'Connor. Starting in March, Vintages will focus on wines from California's Robert Mondavi winery; Italy's Marchesi Frescobaldi; France's Rotschild; and Australia's Penfield. Vintages was previously promoted as a Napa Valley wine bar.
Representing both Mondavi and Marchesi Frescobaldi, Slainte Wines will be responsible for 50 percent of the volume.
O'Connor also mentioned that the Frescobaldi family is very involved and has visited the ships on several occasions. The plan is to show videos in the wine bar from the wine production in Italy.
Nine of Royal Caribbean's ships have Vintages wine bars.
Ideal Wine List
"For the last 20 years, I have said that less is better," explained O'Connor, when asked how to put together a wine list. "Our focus is to compress existing wine lists to a manageable number of wines, but still enough to keep everybody interested and happy.
"Seventy to eighty wines would generate better volume, and profitability would be better. There is no point having 72 California wines, if only 10 sell well.
"In the new Vintages, we will have 12 wines from California, 12 from Italy, 12 from France and 12 from Australia."
O'Connor also believes in wine tastings as a good tool to generate more interest in wines. He said that when arranging tastings aboard Princess ships, 200 to 300 passengers attend.
"When we started in 2004, Zina, my wife (and COO), and I, expected our company would stay the same; we never thought we would grow this much."
Today, as an international wine brokerage, Slainte Wines services cruise lines, airlines, resorts and duty-free sales worldwide.
"We simply try the best we can; we are transparent," O'Connor added.
Excerpt from Cruise Industry News Quarterly Magazine: Winter 2010-2011