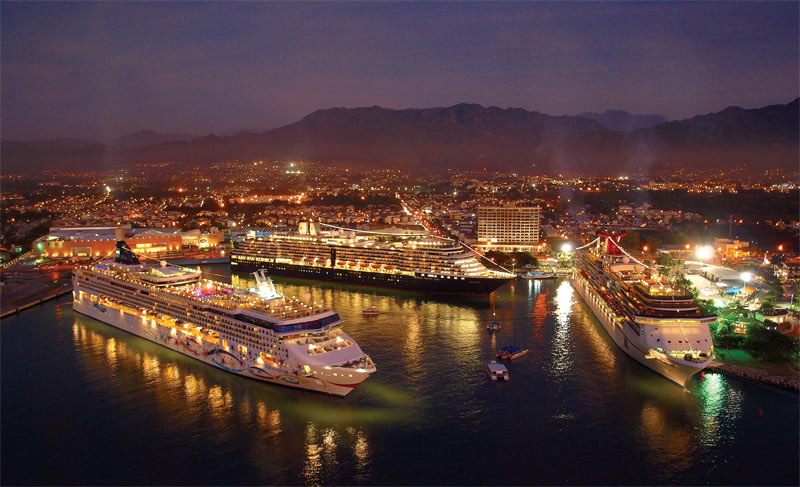 Mexico ranks as one of the top cruise destinations in the world, but while traffic is trending up on the Gulf Riviera, it is dropping significantly on the Pacific Riviera. The reasons are many. The Gulf benefits from the Caribbean traffic with the newest and largest ships, proximity to major U.S. homeports, and from the Cozumel terminals being owned and operated by Carnival Corporation, as well as from the development of Costa Maya.
The Mexican Riviera has been dealt a lesser hand. While having recovered from the H1N1 scare a couple of years ago, higher fuel costs are now limiting the longer sailing distances down the coast, and demand is suffering from the weak economy in California and the frequent media reports of violence by drug cartels.
The next hurdle may be the upcoming California requirement that a percentage of the calls (turnarounds) must hook up to shorepower. (Only Holland America and Princess ships are presently equipped for shorepower.)
Important to Tourism
Cruise is recognized as a very important component of tourism to Mexico, according to Rodolfo Lopez Negrete, chief operating officer of the Mexico Tourism Board. "It (cruise) is part of our strategic marketing plan in the United States and Canada," he said, "and accounts for half a billion dollars in destination revenue."
Lopez Negrete said that Mexico has been a popular tourist destination for a long time, and when the ships started to come both to the Pacific Riviera and to the Gulf Riviera, the product has continued to evolve. "Look at Cozumel today," he added, "it is a powerhouse (in the cruise industry).
"We are now highlighting improvements and product developments, and we are working to differentiate the product in the different ports.
"Our strategy is also to coordinate our efforts between SECTUR (the ministry of tourism), port authorities, local tourism boards and ourselves," he continued.
"In addition, while in the past the board did not have a marketing program targeting the industry, now we do. We are communicating with the cruise lines and their organizations. We meet four to five times a year, and we are listening to each other."
Lopez Negrete said the objective is to be strong on both sides – the Pacific and Gulf coasts – and in the Sea of Cortez.
"We realize the strength of Cozumel, and are working to ensure that we are not hurting on the West Coast. We are working hard to recover the loss of capacity as soon as possible. We want the cruise lines to know that we have an alliance with SECTUR, and we are committed to helping the cruise lines fill their ships.
"We also recognize that every passenger who visits a Mexican port is a possible return visitor for a land vacation," he added.
Lopez Negrete also noted Pullmantur Cruises' operations from Mexican ports, which he said had been very successful last year, running high occupancies out of Cozumel and Acapulco.
He said he wished the North American markets would have more confidence in Mexico, knowing that the tourism board will back them up. "It has been very sad to see the ships withdraw from the West Coast," he said. "Instead, we want to grow the business; we have the capacity; we have the attractions and the diversity."
Lopez Negrete added that 92 percent of those visiting Mexico return. "The reasons," he said, "are the quality (of the Mexican tourism product); the warmth of the Mexican people; and the relationship between price and value."
As for the cruise industry, Lopez Negrete said: "We would like to take that half billion and turn it into one billion."
Excerpt from Cruise Industry News Quarterly Magazine: Winter 2010-2011