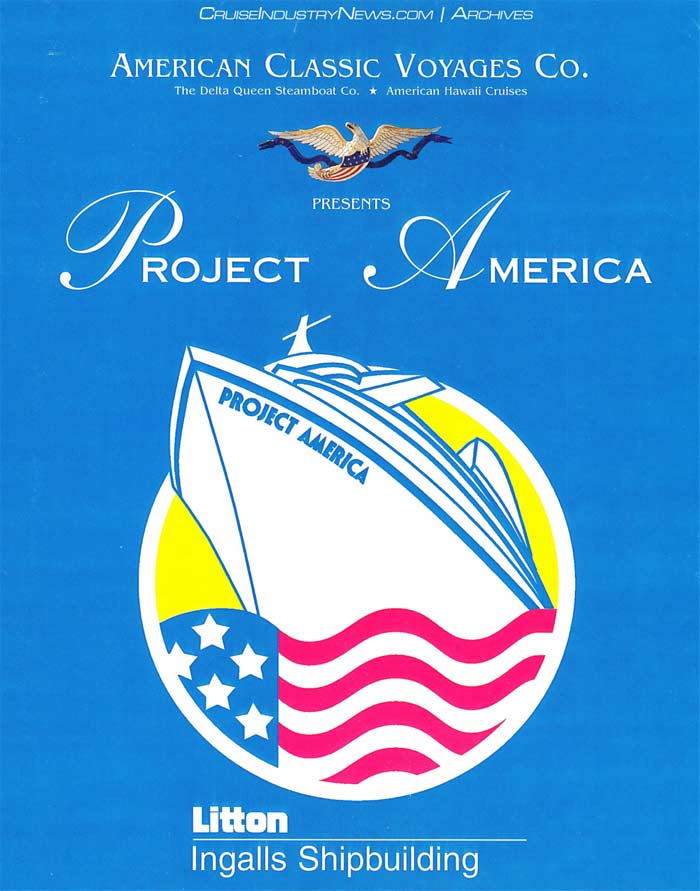 In a release dated October 6, 1998, American Classic Voyages Co. of Chicago and Litton Industries' Ingalls Shipbuilding division of Mississippi announced that they had signed a letter of intent to construct two passenger ships for Hawaii inter-island service with options to build up to four additional vessels.
The ships would have been the largest cruise ships ever built in the U.S. at the time and the first large cruise ships built in America in more than 40 years.
American Classic Voyages said the selection of Ingalls had followed a 10-month competition involving two other prominent U.S. shipbuilders. The company said it had announced plans in 1997 to more than quadruple its passenger capacity in Hawaii during the next seven to 10 years.
The release stated that the first two ships would carry 1900 passengers at double occupancy at a cost of $400 million each, with the first vessel scheduled to enter service in 2002. Tonnage was estimated at 71,000.
The release included a statement by Senators Daniel K. Inouye from Hawaii and Trent Lott from Mississippi commenting on the "revitalization of the U.S.-flag shipbuilding industry", as the contract carried heavy subsidies from the United States.
At the time, American Classic Voyages said it was the largest owner and operator of U.S. flagged passenger vessels, growing from two vessels and $67 million in revenue to four vessels and $178 million in revenue during the 1990s, with both of its U.S. cruise lines – American Hawaii Cruises and Delta Queen Steamboat Co.
Ingalls started the construction of one of the vessels before American Classic Voyages filed for bankruptcy in 2001. Norwegian Cruise Line took possession of the unfinished ship, towing the hull to Germany for completion as the Pride of America. Norwegian also took the chance to lengthen and enlarge the ship. The Pride of America was launched in 2005 after a delay due to damage at Lloyd Werft shipyard caused by a storm, that had partially sunk the ship at her berth.