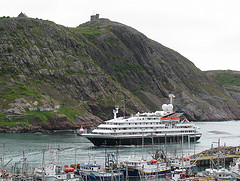 Newfoundland Labrador expects calls by Holland America Line's Maasdam and Eurodam in August, along with calls by Travel Dynamic's Clelia II and Wanderbird Expedition Cruises' Wanderbird. The 2010 season in Newfoundland Labrador began in St. John's in April with a call by the Silver Spirit. In July, the Maasdam and Princess Cruises' Ocean Princess called on St. John's and on the port of St. Pierre & Miquelon as part of North Atlantic itineraries. The Wanderbird also called in July.
The Maasdam is scheduled to call again on Corner Brook and St. Anthony and the Eurodam in St. Anthony.
According to the Cruise Newfoundland and Labrador Association, several small-ship operators also homeport here – in St. John's on the east coast or Corner Brook on west coast – offering pre and post cruise stays, and with easy air access and good highway connection.
The association also profiled the port of Francois in its current newsletter. Francois is located on the Southwest coast of Newfoundland. This tiny village, isolated from any other community or highway by a four-hour boat ride, is home to approximately 120 people. These people whose main occupation thrives on the fishery, settled here in the early 1800's. In recent years, many look-outs and boardwalks have been built for easy accessibility to many scenic views. The 'Friar', an approximately six hundred foot cliff cropping, is one of Francois' most identifiable features, it can be climbed by even the most unskilled climbers, as markers and paths lead their way around the very tops of the mountain.