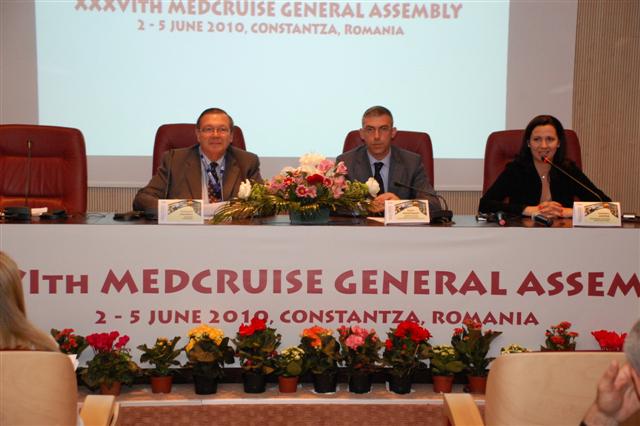 The 36th general assembly of MedCruise took place in Constantza, Romania, June 2 through June 5, hosted by the port authority of Constantza, with support from local tourism authorities.
The port of Constantza is the fourth largest in Europe with 226 operational berths and moves more than 130 million tons of cargo per year.
The port also has a new cruise terminal that opened in 2006 with separate arrival and departure halls and eight security stations.
Sixty-two to 63 calls are expected in 2010, including river vessels some of which also turn around in Constantza. Passenger numbers are forecast in the 11,000 range, according to a spokesperson for the port.
Growth Opportunities
The Black Sea is part of what John Tercek, vice president of commercial and new business development for Royal Caribbean Cruises said were the future "growth theaters," including Italy and the Adriatic, and the Eastern Mediterranean.
"We need more new and fresh destinations," Tercek added, noting that most established ports were saturated, and that Greece is a "mess" and Istanbul is a "bottleneck." He said that the issues are usually rooted in politics and financing.
While traffic to the Black Sea is increasing, it is still modest.
Costa Crociere's operations manager Elisabetta De Nardo said that Costa's experience was not trending toward larger passenger volume for Black Sea cruise. "We will be occasional callers, not regulars," she added. Costa is calling four times in Constantza in 2010.
Luigi Pastena, port captain for MSC Crociere, suggested that MSC might be willing to sail to the Black Sea, but that its new ships exceed the current maximum length of 300 meters for the Bosphorus Strait.
Meanwhile, Black Sea ports are undertaking major renovation and upgrade projects. Most notable is a 500 million euro development in Burgas, Bulgaria. The first stage includes a new cruise terminal and yacht marina to be ready by 2011.
Criteria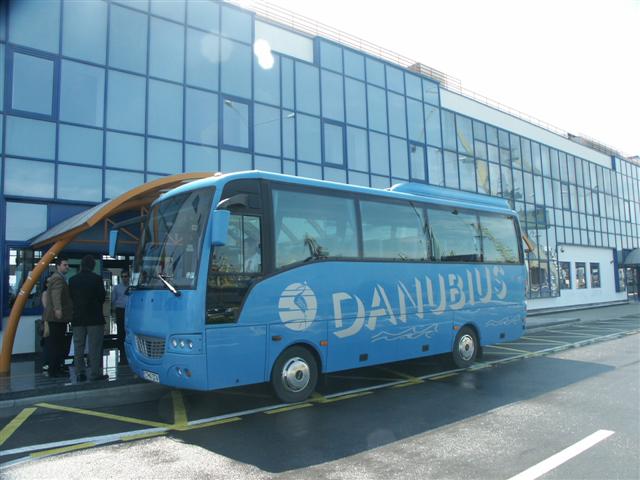 When considering new ports, Rob Roberts, manager of shore excursions for Princess Cruises, said that Princess looks for marquee value, product delivery, and operational aspects, and does a cost/benefit analysis. The line also surveys passengers about where they want to go next. In addition, ports are rated after each call, and Roberts said that Black Sea ports received average scores.
As for shore excursions, Roberts said that providers must be prepared to accommodate older passengers and offer time efficient programs whereby passengers are not spending too much time traveling ashore or waiting in line. "You must maximize the use of our available time," he added.
Costs Squeeze
Cruise lines taking part in the MedCruise conference, including Costa, Louis, MSC, Princess, Royal Caribbean and Thomson, all asked for fee and cost concessions from the ports in light of the economic situation.
Costa's De Nardo said that the cruise line is asking ports to freeze tariffs and also offer cruise lines incentives.
"We know your margins are tight," she added, "but you cannot increase rates today. We've had to reduce prices to sell (cruises), optimize itineraries to save fuel, and initiated cost containment actions. We are looking at all the details and we are asking that you (the ports) help us out."
Tercek added that "margins today are very thin." He demonstrated this by showing a chart that slowed the sharply declining net income of Royal Caribbean from 2005 to 2009, and "almost all the profit for 2010 is driven by the Oasis of the Seas," he added.
And Maurice Kennedy, general manager of cruise operations for Thomson and Island Cruises said: "The last couple of years have been tough and all the margins are under pressure. We are struggling and have to contain costs, including port costs. All our costs are in euros and dollars, but our revenue is in pounds, which has taken a beating. We are talking to all the ports and we are watching every single penny."
Roberts said that operating costs in the Black Sea were higher than in the Mediterranean, but were offset by higher shore excursion revenues.
MedCruise has 60 members, representing 80 ports in 23 countries.
(Full reports on the MedCruise conference and Constantza, as well developments in other Mediterranean ports follow in the Cruise Industry News Quarterly Magazine and in Cruise Industry News Newsletter.)