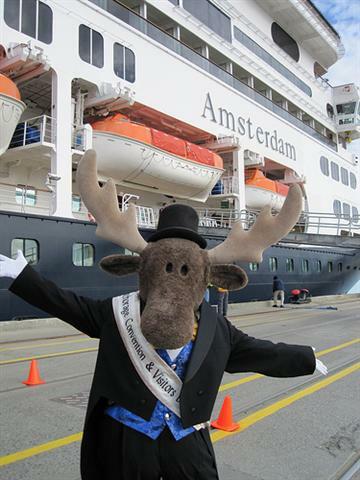 Holland America Line's ms Amsterdam tied up at the Port of Anchorage this morning, marking the first port call in the city this season and one of the most significant passenger vessel arrivals in recent years. The visit is part of Holland America Line's new 14-day Alaskan Adventurer cruise. The Amsterdam will make nine stops in Anchorage during the 2010 season, with more scheduled in 2011.
"This new itinerary is an exciting addition to Holland America Line's Alaska cruise schedule," said Richard D. Meadows, CTC, executive vice president, marketing, sales, and guest programs for Holland America Line. "It provides a longer itinerary choice – one that lets guests experience even more of Alaska's grandeur while enjoying the ease of a roundtrip cruise."
While several smaller passenger vessels have made stops at the Port of Anchorage in previous years, the 1,380-guest Amsterdam is the first cruise ship of this its to call regularly at the port.
"We are excited at the opportunity to welcome the ms Amsterdam to the Port and the city of Anchorage," said Port Director Bill Sheffield. "The Port of Anchorage provides diverse and vital services to Alaska and this is one more example of our ability to accommodate passenger vessels."
"The arrival of the Amsterdam represents a new page in the growth of the city," said Anchorage Mayor Dan Sullivan. "We welcome this newest group of visitors and invite them to explore all that the city has to offer."
Each Amsterdam port of call in Anchorage will last 16 hours, providing guests with a full day and evening in Alaska's largest city. Shuttles, cabs and charter vehicles will connect passengers to downtown Anchorage and shore excursions depart by train and motor coach for activities across Southcentral and Anchorage. Volunteer greeters will orient passengers with the city on the short ride up from the port, and will also be available to answer questions once they arrive downtown.
The Anchorage Downtown Partnership expanded its Music in the Park program in Peratrovich Park on Mondays to welcome cruise passengers exploring downtown restaurants, retailers and businesses.
"With this port of call, we are expecting a nice bump in business for retailers, restaurants and attractions in Anchorage and a significant economic benefit," said Anchorage Convention & Visitors Bureau President and CEO Julie Saupe. "We're excited to share Anchorage's abundant amenities and adventures with these new visitors."
The ship departs late Monday night. Night owls will be able to see the Amsterdam cruise through Knik arm towards Point Woronzof between 11 p.m. and midnight. The Amsterdam also makes calls in Ketchikan, Skagway, Sitka, Homer, Kodiak, Juneau and Victoria, British Columbia during the journey. The ship will return to Anchorage next season, with arrivals every other week on Fridays between May 13 and Sept. 2, 2011.