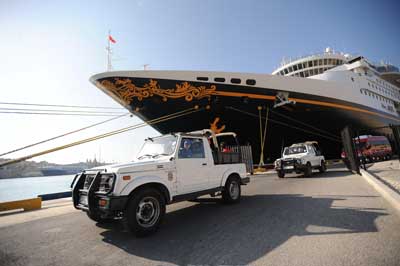 Disney cruise Line's Disney Magic has made its maiden call at the Valletta Waterfront today (26 April). This is the first of another nine cruise liners which will be making their maiden call in the port of Valletta throughout 2010, said VISET Malta plc, developers and operators of the Valletta Waterfront.
On its arrival at 8 am, Disney Magic was greeted with a live band which cheered disembarking passengers with joyful tunes. Roman soldiers further added to the special atmosphere on the quay whilst British solders distributed information on various Fondazzjoni Wirt Artna sites of history and national heritage.
The revered US cruise liner, specialising in family holidays, is one of the most admired and recognizable ocean liners in the world, making hundreds of trips to dozens of exotic international ports every year. With 10 decks and a total length of 294 metres, Disney Magic can accommodate 2,700 passengers.
The cruise liner was presented with a commemorative plaque by VISET Chairman, Dr Anton Micallef and the CEO of Transport Malta Dr Stanley Portelli. The ceremony took place in the presence of the the Hon Mario de Marco, Parliamentary Secretary for Tourism,, the US Ambassador Douglas Kmiec, MTA Chairman Mr Louis Farrugia and other distinguished guests.
During the day, Disney's favourite character Mickey Mouse, together with volunteers from Disney's charitable organisation VoluntEARS, visited children undergoing treatment at Mater Dei Hospital and presented them with gifts.
At 4 pm, when it was time for the cruise liner to continue on its voyage around the Mediterranean, passengers were treated to a performance of the popular In Guardia parade – a historical re-enactment portraying an inspection of the Knights' fort and garrison by the Grand Bailiff of the Order. As the Disney Magic exited the historic Grand Harbour, a gun salute was given from the saluting battery of the Upper Barrakka Gardens.
"Malta is increasingly establishing itself as a prime destination, with a number of renowned cruise companies requesting to include the port of Valletta on their itineraries," said VISET Malta plc CEO John Portelli. "The award of Best International Port in the Mediterranean confirms the Port of Valletta's attraction as a cruise liner destination together with the appreciation of the level of service provided to both cruise ships and their guests."
During the first quarter of 2010, 45,702 passengers passed through the Port of Valletta. This represents a substantial increase over the same period last year.