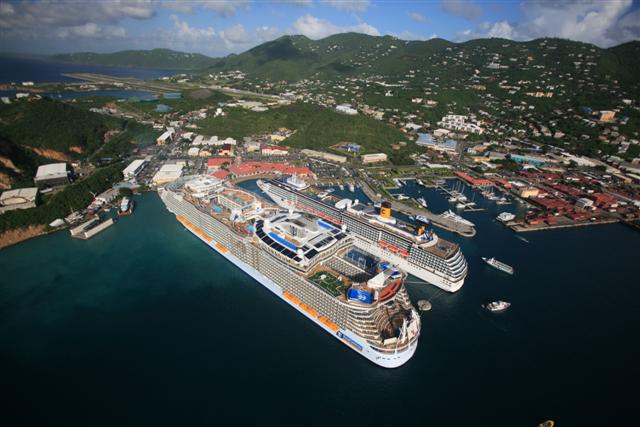 Cruise Industry News has invited some of the leading cruise destinations in the Caribbean to participate in a roundtable discussion on 2010 and beyond. While bigger ships, traffic numbers and infrastructure development plans in the region look very promising, a shaky economy has reduced passenger spending and there is no shortage of challenges in the months and years ahead.
Aruba is set to roll out a new marketing platform for 2010, creating a single brand for all of Aruba's ourism, according to Tamara Waldron, director of Aruba Cruise Tourism.
Ryan Blackett, director of cruise for Barbados, said that the island is opening a number of different attractions that will be more accessible to the cruising public. Additionally, he said that hotels are becoming more open to the idea of welcoming cruise passengers to their facilities.
The Cayman Islands may be finally adding a pier as well. Joseph Woods, manager of cruise operations and security for the port authority, explained that plans are being "vigorously pursued". At this point, plans call for four berths that would accommodate the biggest ships from Carnival Cruise Lines and Royal Caribbean.
In Curacao, Dino Daal, director of product development said, "in terms of development more attention will be devoted to city center improvements with concrete action plans, which will significantly enhance passenger experiences."
Colin Piper, CEO and director of tourism at the Discover Dominica Authority, added that a new public awareness campaign is underway. "Passenger experiences are also expected to be optimized as a result of the public awareness campaign, which will be increased during 2010, as well as additional entertainment at cruise ports to welcome visitors ashore and encourage more disembarkation."
A new road system in the Dominican Republic will provide better access to historic destinations, according to Luis Molina, executive director of Sans Soucí Ports.
In Grenada, Edwin Frank, a spokesperson for the board of tourism, said that Grenada is working in the short term to augment its product offerings. Additionally, he commented that Grenada has created a roster of vendors. "Instead of having every vendor there when a ship comes in, we worked with the community to create a roster of who is there." Edwin went onto say that the shopping experience on the island "has been improved in a big way."
Director of Cruise for Guadeloupe, Olivier Bernard Michel, commented that Guadeloupe now has 30 "Ameritouristes" in town to assist cruise passengers. These dedicated bilingual guides help inform passengers of what there is to see and do in Guadeloupe, and answer any questions.
And in Jamaica, Falmouth is the big news. The town and port, being developed by Jamaica and Royal Caribbean, is set to open in December for the Allure of the Seas, followed by the Oasis, according to William Tatham, vice president of cruise shipping and marina operations for the port authority.
Tatham commented: "A great deal of effort is being focused on the Falmouth project ensuring that the port is completed in its projected timeframe. At the same time, we are presently finishing up an extensive refurbishing exercise at our facilities in Montego Bay and Ocho Rios. In Montego Bay this includes a complete facelift to the terminal building, including a resurfacing of the roof area, a complete repaint of the building inside and out, using a new color scheme, and refurbishing of bathrooms. In Ocho Rios, we have also done a facelift with a new color scheme and retiled the terminal building."
Additionally, Jamaica is set to launch a berth reservation system this spring. Tatham explained, "it's an online booking system that will allow itinerary planners to book and cancel their vessels in real time. This will allow for greater efficiency in the usage of our berths and ensure that there are no lost opportunities"
A new shopping mall in addition to more shore excursion offerings are noteworthy in Martinique, according to Jacques Bajal, manager of cruise and sailing for the Martinique Tourism Authority. The Saint-Louis Fort is also set to reopen in late 2010, following completion of renovation.
Puerto Rico continues to follow its strategic plan, which runs through 2015. The six pillars of the tourism development plan include: new tourism products, improved air, maritime and ground transportation access, lower cost of doing business, new marketing strategies, improved product quality and new brand positioning for Puerto Rico.
St. Maarten is in the early planning stages to develop the onshore area at the second cruise pier, according to Mark Mingo, CEO of the St. Maarten Harbour Group of Companies. Additionally, St. Maarten is looking at developing another onshore facility near the tender jetty across from the Sea Palace Hotel.
In St. Thomas, Edward Thomas, president and CEO of the West Indian Company, said that the road system at the eastern end of the main harbor has been significantly improved. He added, "this further reduces congestion and significantly improves the passenger movement and ultimately passengers' satisfactory experience."
Excerpt from Cruise Industry News Quarterly Magazine: Spring 2010