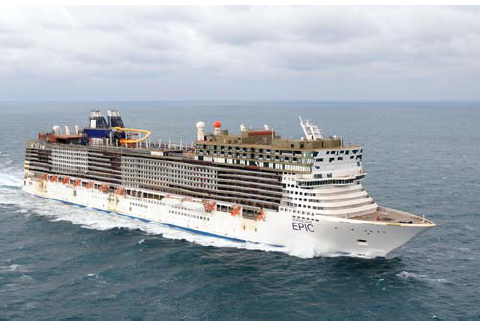 Norwegian Epic, Norwegian Cruise Line's largest and most innovative ship to date, returned from her first successful sea trials on Sunday, February 14, 2010, after four days of sailing the Atlantic Ocean for the first time. During the sea trials, 300 technicians and engineers from STX FRANCE SA, along with 30 Norwegian Cruise Line representatives, checked more than 60 different aspects of the ship's performance by running trials of the vessel's speed, maneuverability, hydrodynamics and propulsion, amongst others.
"During her first time ever at sea, Norwegian Epic performed above expectations with excellent marine behavior," said Roberto Martinoli, Norwegian's president and COO, who was on-board during the sea trials. "All tests were conducted with positive results. She is a beautiful ship with outstanding performance. Now that sea trials are completed, we can concentrate on finishing the ship and showing her to the world in June."
A second round of sea trials is scheduled for mid-April in order to finalize all tests, including final speed measurement. The 153,000-gross ton, 4,200-passenger ship – the largest ship ever built in Saint-Nazaire – is scheduled for delivery on June 15, 2010.