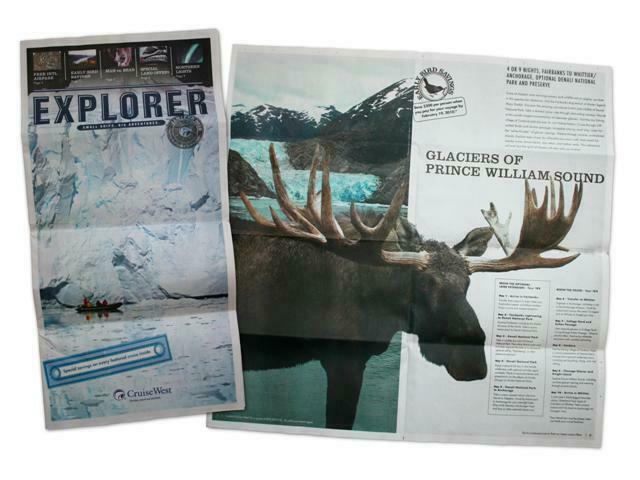 Cruise West, a global leader in small-ship cruising, today unveiled it's first issue of Explorer – a large format "magalog" that breaks away from the glossy, cookie-cutter brochures that have traditionally dominated the cruise industry.
Starting on January 18th, 400,000 copies of Explorer will land in the hands of customers, prospective cruisers, and travel agents across the United States. When the magalog is received, the outside panel is a teaser visual that provides no hint as to what the reader will discover inside. As the reader unfolds it not once, but twice – a nearly newspaper sized page is revealed, measuring roughly 21-1/2"x 21-1/2."
"When we spread the competitive brochures out across our conference table, it was hard to tell them apart," said Dave Remer, Creative Director of remerinc, Cruise West's Agency of Record. "Not only were the covers and content identical, but the size, shape and slick finish did very little to differentiate their brands. We wanted to break that mold in order to ensure that marketing materials from Cruise West get noticed from the moment they arrive on doorsteps. As readers unfold this magalog, they will become engaged with it on a personal level – something that doesn't happen with traditional brochures."
Dietmar Wertanzl, Cruise West President & CEO shared "Our company delivers a clear alternative to mega-ship cruising… a more personal, informative, and interactive experience. This magalog reflects those same virtues. It's bold, tactile and fun – yet it also works extremely hard in terms of describing our itineraries and giving the reader a sense of the adventure that awaits. I'm confident that our customers and travel agent partners will be captivated by it… as well as find it useful in planning their next adventures with Cruise West."
Cruise West takes great pride in the fact that their small ships tread lightly on the environment. In keeping with that commitment, Explorer has been designed to print on recyclable paper using soy based ink. And in the coming weeks, Explorer will also be made available online.
"The concept of a magalog – part magazine and part catalog – is intended to fuel the imagination of fellow explorers," shared Andrea Jones, remerinc Vice President of Strategy. "We will endeavor to make each edition distinct and different to ensure that recipients will never tire of receiving it, Our hope is that readers will consume Explorer as they do their favorite magazine… being drawn in by powerful imagery and learning something along the way. We want to inspire travelers to consider places they may have never dreamed of visiting."