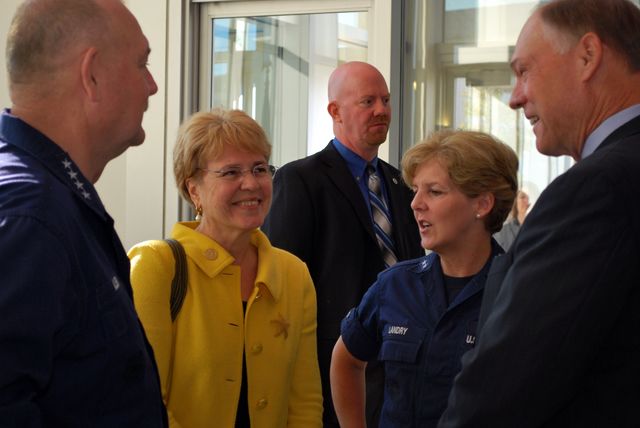 Ship captains and pleasure boaters can now get free real-time information on water and weather conditions for the lower Mississippi River from a new NOAA ocean observing system that makes piloting a ship safer and more efficient.
The NOAA Physical Oceanographic Real-Time System (PORTS®) on the lower Mississippi River provides observations of tides, currents, water and air temperature, barometric pressure, winds and bridge clearance. Collected from a variety of sensors in and around the port, the data is available on the Internet: http://tidesandcurrents.noaa.gov/ports.html and by phone: 888-817-7767 (toll-free).
"NOAA is committed to providing quality tools and services like PORTS® which support the nation's maritime economy," said Jane Lubchenco, Ph.D., under secretary of commerce for oceans and atmosphere and NOAA administrator. "Roughly two-thirds of all the goods we buy in the U.S. arrive by ship, contributing millions of jobs and roughly $1 trillion annually to the national economy."
Administered by the NOAA Center for Operational Oceanographic Products and Services, PORTS® can significantly reduce the risk of vessel groundings and increase the amount of cargo moved through the port by enabling mariners to safely utilize dredged channel depths. The system also allows large ships to time their arrivals and departures more efficiently.
"Safety and efficiency is paramount to competing effectively in the global marketplace," said Port of New Orleans president and CEO Gary LaGrange. "We applaud NOAA for implementing the PORTS system, which will aid all users of the lower Mississippi River."
Today, the Port of New Orleans is at the center of the world's busiest port complex and is vital to the local and national economy. About 160,000 jobs are tied to the port and its operations, with $8 billion in earnings yearly. Approximately 15,000 ships and 700,000 passengers go through each year. About 500 million tons of cargo move through the Mississippi River each year, including chemicals, coal, timber, iron, steel and more than half of the nation's grain exports.
"Real-time tidal, weather and air clearance data at the touch of a button was an important resource missing from our current navigation technology," said A.J. Gibbs, chairman of the Board of Commissioners of the Port of New Orleans and president of the Crescent River Port Pilots' Association. "The availability of this data to augment the Pilots' critical local knowledge of the river will certainly enhance safety and efficiency for the entire maritime community."
The Lower Mississippi River system brings the number of PORTS® in operation around the nation to 20. Estimates of economic benefits attributed to the system range from $7 million per year for Tampa Bay to $16 million per year for Houston-Galveston, according to studies conducted in those regions.