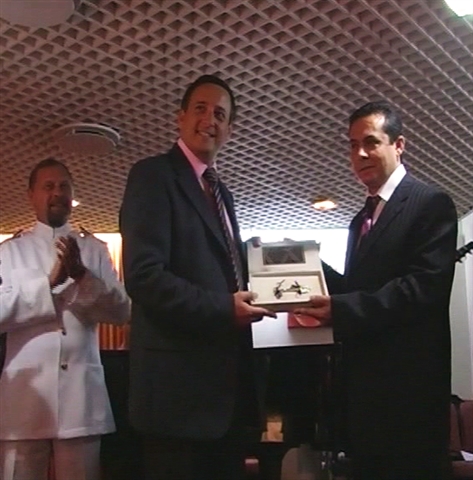 The Key of Alanya, the historic cruise-only port on the Turkish Riviera, was presented to Mr Moshe Mano, President & CEO of Mano Maritime, at a cocktail ceremony on board ROYAL IRIS on 9 October.
The Deputy Mayor of Alanya, Alanya Harbour Master and the President and board members of Alidas Co. Inc. (operator of the cruise port) attended the ceremony.
Mano Maritime ships started visiting Alanya in 1998, with SILVER STAR. Visits continued with THE IRIS, THE JASMINE, ROYAL IRIS and GOLDEN IRIS. Together, Mano ships brought more than 100,000 passengers, on over 200 voyages in ten years to Alanya: a quarter of all Israeli cruise traffic that Alanya hosted in this period.
Mr. Mano said: the port's facilities had greatly improved since 1998, it is very well organised now; Israeli passengers love Alanya, where they feel very happy and safe; everybody in Israel knows Alanya; you will see our ships' flag more often. He thanked the authorities for their consistently warm attention and excellent co-operation, and invited them on a cruise to Haifa.
Mr Mano presented an original oil-painting, by a famous Israeli artist. It depicts two Mano ships moored together in Alanya, on the pier below the ancient Red Tower, and will hang in Alanya Town Hall.
In October and November 2009, MIRAGE -I of Caspi Cruises, THE CALYPSO of Thomson Cruises, GOLDEN IRIS of Mano Maritime and ALBATROS of Phoenix Reisen will be repeat visitors to Alanya Cruise Port. In these months; EL VENIZELOS of Anek Lines, ATHENA of Phoenix Reisen and BALMORAL of Fred Olsen will visit for the first time.