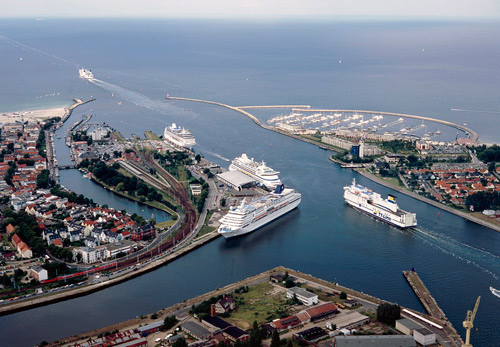 This year's cruise season in Warnemunde came to a close with a visit by the Braemar of Fred. Olsen Cruise Lines on Sept. 22. The 700-passener ship arrived at the Warnemünde Cruise Center at around 7:00 a.m. and departed at 11:00 p.m. for Copenhagen. A call by the Black Watch, originally scheduled for Dec. 15 has been cancelled by Fred. Olsen due to a rescheduled drydocking.
For 2009, Rostock-Warnemunde has reported 113 calls by 30 different cruise ships with more than 160,000 passengers. Twenty-three international cruise operators included Rostock's seaside resort in their programs for 2009. In addition were five turnarounds by the AIDAluna of Rostock-based AIDA Cruises, and partial turnarounds by Norwegian Cruise Line (NCL), bringing the total passenger coun to 200,000.
The season started May 1 with the arrival of the Norwegian Jewel. There were a total of 18 days with two ships calling and four days with three ships in port at the same time. Three ships called Warnemünde for the first time: AIDAluna, Emerald princess, and Adrianna III.
For next year, the same number of calls and passengers are expected.