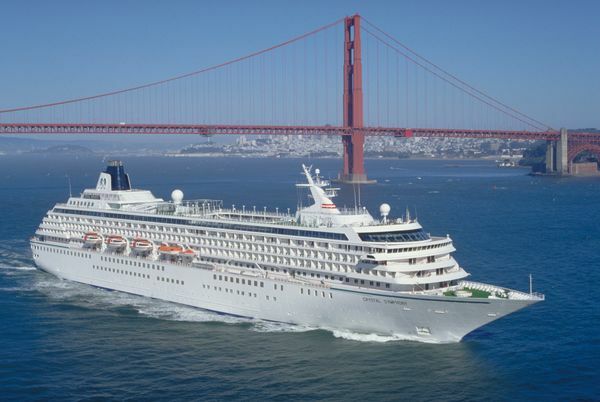 Crystal Cruises has announced its return to the Port of San Francisco in 2011, featuring nine 12-day voyages to Alaska and a 19-day Panama Canal cruise to New York on the luxurious Crystal Symphony.
For more than a decade Crystal Cruises was a mainstay at San Francisco, offering round-trip summer sailings to Alaska through 2005. The return of the 922-guest Crystal Symphony to the Pacific Coast is welcome news to thousands of luxury travelers in the Bay Area seeking a convenient summer holiday to Alaska, as well as global travelers.
"The Port is honored to welcome Crystal Cruises and their 9,200 guests back to the beautiful San Francisco Bay," said Monique Moyer, executive director of the Port of San Francisco. "The continuity of a homeport ship for the summer season on the San Francisco waterfront means a lot for the local economy, both in terms of tourism and also jobs for longshoremen and ship support workers."
"We're delighted Crystal Symphony will be returning to San Francisco, a destination where we have such deep traditions," said Gregg Michel, president of Crystal Cruises. "By 2011, we will not have had a summer series of Alaska cruises for six years. These itineraries add a fresh mix to our cruise repertoire and appeal to regional residents and Crystal cruisers worldwide. The convenience, beauty, and richness of the itineraries make this a perfect holiday for discerning individual travelers, couples, and family reunions."
Bill Knight, president of All Cruise Travel, based in San Jose, California, is thrilled about Crystal's return to San Francisco for the 2011 Alaska season: "Almost all of the hundreds of our clients who booked a Crystal cruise to Alaska consider it to be the best vacation they ever had. It's an unbeatable combination: cruising roundtrip from the most beautiful city in the world to one of the most beautiful places in the world, in six-star luxury on the world's highest rated cruise line. There is nothing quite like enjoying the wonders of Alaska from a Crystal ship."
The Port of San Francisco has begun development of Pier 27 as the city's primary cruise terminal, taking over the role currently filled by Pier 35, a two-berth facility located near Fisherman's Wharf. The new Pier 27 Cruise Terminal will meet the latest industry standards and be built and operated employing the highest environmental and sustainable practices available. A shore-side power hook-up is expected to be on line in 2010, which will allow equipped cruise ships to reduce air emissions to near-zero. The Port will convert the existing maritime shed into a 120,000-square-foot terminal and incorporate an adjacent open-space plaza. The renovated Pier 27 will meet the evolved security and passenger-handling demands of the cruise industry, while also being configured to allow recreation and special-event uses.