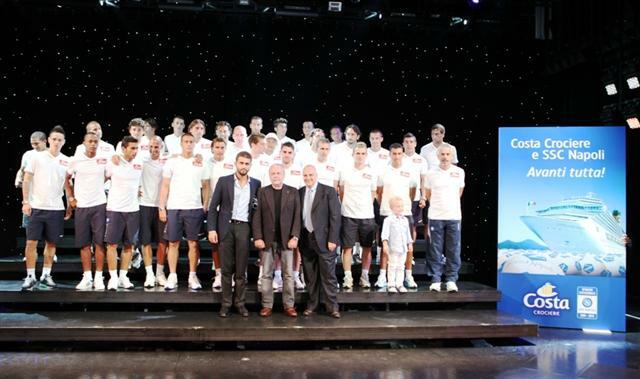 S.S. Calcio Napoli (Naples soccer club) "kicked off" its 2009/2010 campaign in Italy's top flight Serie A by presenting the team at a special event arranged yesterday (August 3) on board the Costa Concordia, the flagship of the fleet operated by Costa Cruises.
The stars of the occasion, the full Naples squad including all the new signings, descended on the "Stazione Marittima" in helicopters and powerboats in a glamorous and exciting atmosphere.
Authorities, personalities from the world of sport and show business, Naples soccer club's sponsors and partners and Costa Cruises' guests attended the event that took place in the Athens Theatre of the ship.
This presentation preceded S.S. Calcio Napoli's home debut on August 5 at S. Paolo Stadium against the Spanish outfit Espanyol.
Costa Cruises confirmed its role as institutional sponsor of S.S. Calcio Napoli for the fourth year in a row, testimony to the strong ties linking the Italian Company to the city of Naples and its soccer team.