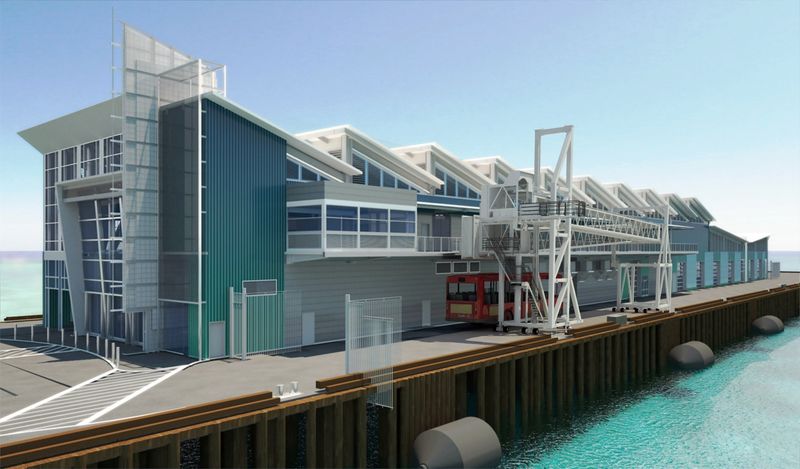 TEAM, a leader in the design and manufacture of sophisticated passenger boarding bridges for cruise and ferry terminals has recently been awarded a contract to design, manufacture and install in the summer of 2010 one mobile passenger boarding bridge (PBB) of the SEDNA range for the new cruise terminal currently in construction on Broadway Pier in San Diego.
Out of fourteen bidding companies, the Port of San Diego awarded the construction contract for the new cruise rerminal and mobile PBB on Broadway Pier to Jaynes Corporation of Southern California. For having selected TEAM over three other PBB providers, Jaynes Corporation secured their winning offer.
The new Cruise Terminal will be a "leadership in energy & environmental design" (LEED) – certified building, meaning that it will be designed to use less water, less energy and produce fewer pollutants. The design features a unique "sawtooth" roofline and glass roll-up doors. The facade of the building will be all glass, giving the structure an airy, open feel.
In the design parameters for the PBB set out by the Port of San Diego, the capability for the PBB to be mobile and being parked behind the terminal building are important factors. Another important feature is the adaptability of the PBB to connect with various entrances on the second level of the cruise terminal building and various cruise ship doors. The length of the PBB will be more than 40 meters and the cabin of the PBB is equipped with a uniquely integrated hydraulic, telescopic, docking ramp that, when attached to the side of a cruise ship automatically follows the vessel's movements and will immediately undock in the event of an emergency. The PBB will not obstruct continuous truck, emergency, equipment and supplies traffic on the pier. TEAM's PBB will be able to serve any cruise ship calling on the port, is compliant with ADA and international safety and security standards.
With this new contract TEAM currently is designing and manufacturing 10 Passenger boarding bridges for cruise terminals to be delivered during 2009 and 2010:
2 PBBs for Creuers de Barcelona – Terminal A, Barcelona, Spain (2009)
2 PBBs for Malaga Cruceros – Malaga, Spain (2009)
2 PBBs for Marseille Provence Cruise Terminal – Marseille, France (2009)
2 PBBs for Port of Miami, Miami, Florida, USA (2009 and 2010)
1 PBB for the City of Mobile, Mobile, Alabama, USA (2009)
1 PBB for the Port of San Diego, San Diego, California, USA (2010)
TEAM, founded in 1991, is an engineering and services company with offices in Barcelona, Madrid, Monzón (Spain) and Miami. TEAM is a leader in the design, manufacture, installation and maintenance of sophisticated passenger boarding bridges for cruise and ferry terminals. TEAM also designs and builds special transport trailers under the TRABOSA brand and offers a wide range of products and services for port and airport terminals around the world.